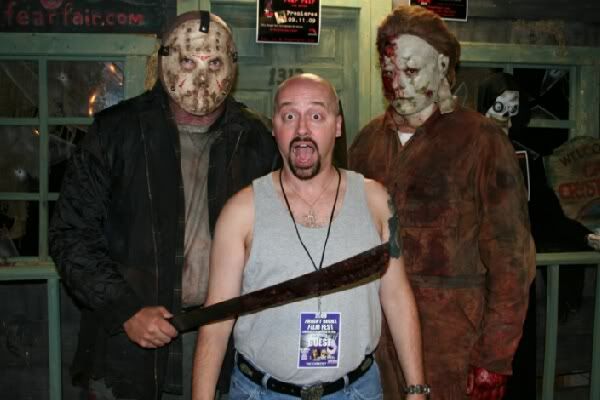 HELLO, FRIENDS…
I've just returned home from the 5th annual FRIGHT NIGHT FILM FEST, a 3-day film/fan convention featuring horror celebs, movie premieres, vendors, and bands. This year they also added tattoos!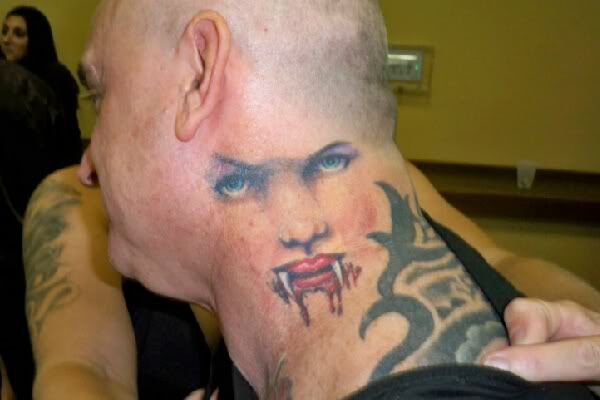 ABOVE: An attendee shows off his vamp tattoo!
This year's show had its share of "hic-cups," but it was a good time, overall. I arrived early on the first day to set up and, unfortunately, found that the show's celebrity/vendor space had been divided into three different rooms. It tends to take quite a bit of energy out of a show when the attendees have to travel through various rooms on opposite ends of hallways just to find where everything is.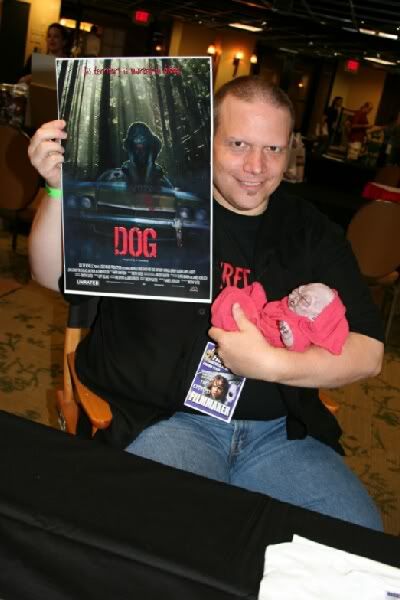 ABOVE: James Korloch, creator of DOG!
It wasn't long after my arrival that James Korloch showed up. James is the writer and creator of DOG, a movie I appear in with Debbie Rochon (AMERICAN NIGHTMARE), Michelle Page (GHOST WHISPERER), Tom Sullivan (EVIL DEAD), and many others. The movie was making its southern premiere at the festival the next day and I was psyched to see it. The film can be described as The Texas Chainsaw Massacre Meets Beauty And The Beast! Fun stuff!
ABOVE: Sybil Danning and Jim O'Rear.
It wasn't long before more guests began to appear and set up their tables, including Sybil Danning (THE HOWLING 2), Daniel Emery Taylor (RETURN OF THE SWAMP THING), Megan Franich (30 DAYS OF NIGHT), Ari Lehman (FRIDAY THE 13TH), William Forsythe (THE DEVIL'S REJECTS), and many more. As abundant as the guest list was, however, it started to become apparent that there were several who had been advertised to appear that weren't in attendance. I'm not sure why, as nothing was stated that anyone had cancelled.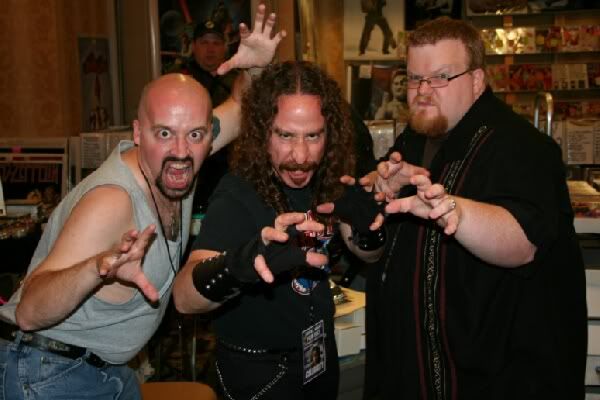 ABOVE: Jim O'Rear, Ari "Jason" Lehman, and Daniel Emery Taylor.
The most elusive of all of the guests seemed to be the two who were "top billed." Those were Linda Blair (THE EXORCIST) and Michael Madsen (KILL BILL). These two guests were rarely around to sign autographs and a common joke began throughout the show that seeing these two was equivalent to a Bigfoot sighting… very rare, random, and quick. Many guests were disappointed that Linda and Michael only appeared for a few hours a day, but it was never announced when those hours would be. In addition, you had to buy a special ticket in advance in order to meet them and get a signed photo.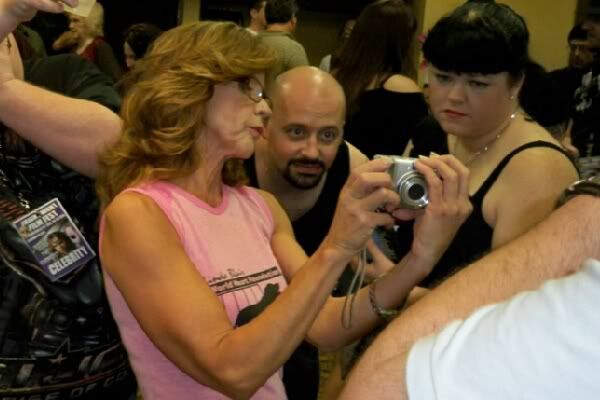 ABOVE: Linda Blair shares photos of her dogs with Jim O'Rear and Ami Taylor.
The first day plugged along and offered screenings of two films I appeared in… CHAINSAW CHEERLEADERS (also featuring Debbie Rochon (AMERICAN NIGHTMARE) and Tiffany Shepis (NIGHT OF THE DEMONS)) and THE LEGACY (also featuring Daniel Taylor and Jason Crowe (DEAD MOON RISING)). Fun stuff!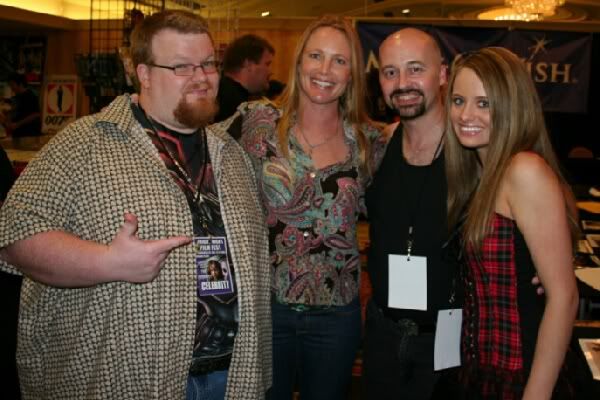 ABOVE: Amy Steel (FRIDAY THE 13TH PART 2) poses with Daniel Taylor, Jim O'Rear, and Kayla Perkins (HELL-EPHONE).
More fun was planned after the show closed for the evening. Black JuJu, an Alice Cooper Tribute band, was performing just down the hall. I'm a huge Alice Cooper fan, so this show was a must-see! I wasn't disappointed. The band played a lot of Alice's classic hits and was fun to watch. The band's show began like this: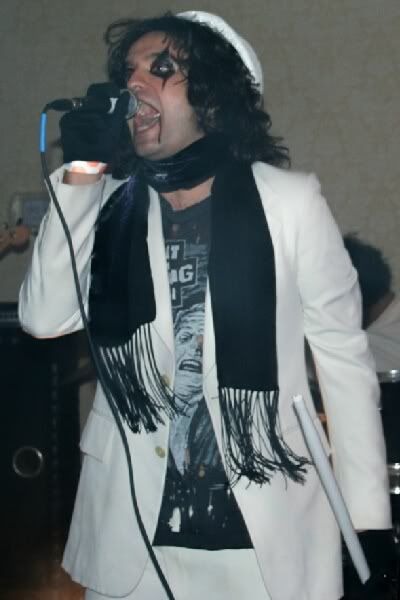 And ended like this: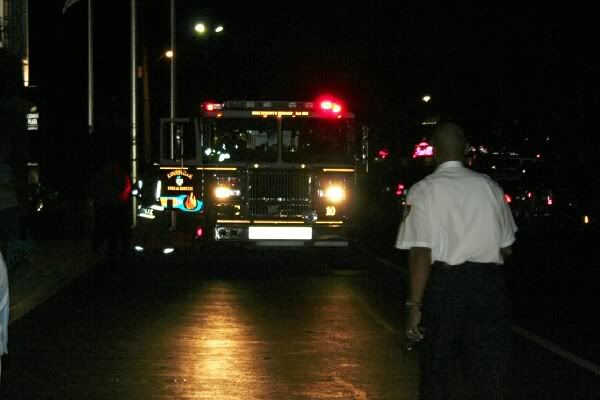 Apparently, the hotel's fire alarm system is very sensitive to smoke/fog machines and toward the end of Black JuJu's set… the ENTIRE hotel was evacuated. A great way to end your concert, though!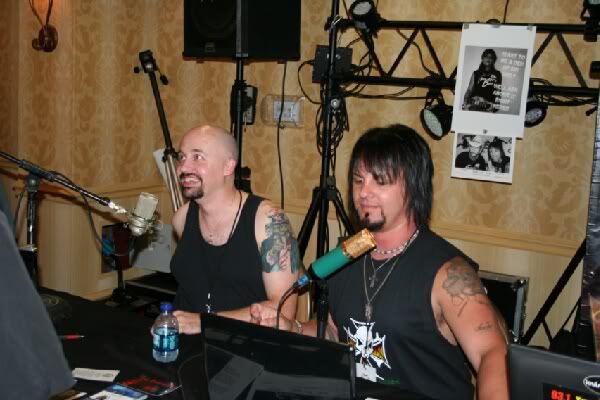 ABOVE: Jim O'Rear is interviewed by CrossFire Radio.
Saturday began with a bang. At least for me it did. I think it began with a hangover for many others! I went to see my friends Ben and Stacey Dixon (BLOODY MOON FILMS) who, along with Vaden Hadley, had a brand new extended trailer of OLD HABITS DIE HARD that they were premiering (a film I star in with Kane "Jason" Hodder, Tricia Cast (THE YOUNG AND THE RESTLESS), Roger Hewlett (THE CHANGELING), and Stacey Dixon). It was awesome! Afterwards, I rushed over to do a live interview with the fine folks at CrossFire Radio. Look them up on the web and check them out. They are a lot of fun!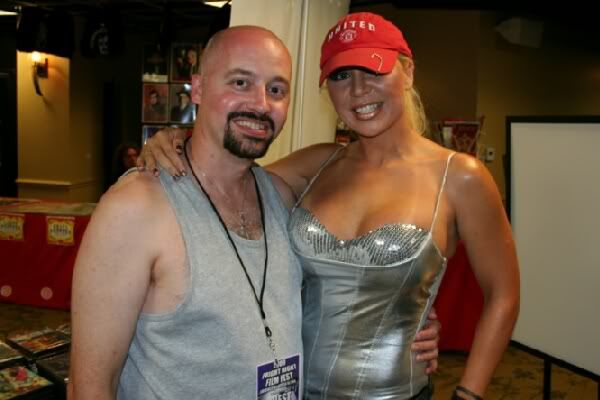 ABOVE: Jim O'Rear and Playmate Alex del Monacco (THONG GIRL 4).
Speaking of new trailers… Glenn Weiss and Alex del Monacco showed up to promote the new trailer for THONG GIRL 4, another film I appear in alongside Troma icon Lloyd Kaufmann. The trailer should be available online soon. It looks like this is going to be another fun outing for the cape-wearing, thong-sporting super heroine!
ABOVE: Jim O'Rear with Misty Simmons-Poteet (BRIMSTONE) and Kynt and Vyxsin from THE AMAZING RACE.
Saturday also brought along more complaints from attendees about guests. It was advertised that Danny Lloyd (THE SHINING) would be making a rare 1-day appearance to sign items and greet fans. Danny was there (around mid-day) but I'm told that he, unfortunately, didn't stay very long and several people missed seeing him. Another Bigfoot sighting, possibly?
Of course, as most Saturdays go at conventions, various bits of silliness ensued. One of the sponsors of the show this year was Maker's Mark… so, Daniel Taylor and I took the opportunity to photograph a new ad campaign picture for the company while we were at lunch. I'll share it with you here:
It's brilliant advertising at work! Ha ha ha ha
As the day wrapped up, several nighttime activities were planned, such as the film awards ceremony, celebrity cocktail party, drive-in theater screenings, and more. AND, I guess it goes without saying, that LOTS of drinking was involved!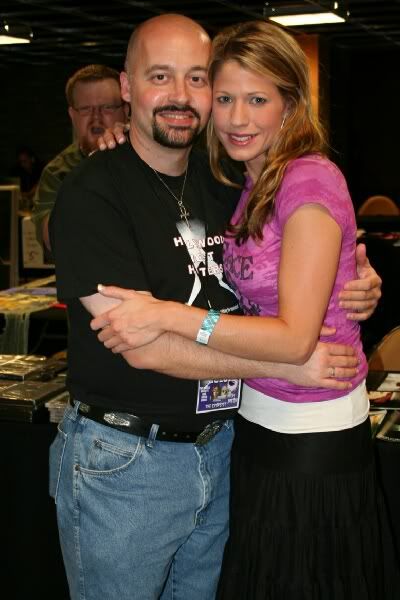 ABOVE: Is that Daniel Taylor Photo Bombing a picture of Jim O'Rear and Sebrina Siegel (THE AUDIT)?
Sunday was the typical convention wind-down day… the last opportunity to spend some time with friends and fans before heading home for some rest. It was great to visit with everyone and I thank all who stopped by to see me. Sorry that I didn't get to mention everyone that I spent time with, but my typing space is getting short.
Now, I must fly to Chicago to film another movie, but I hope to see everyone at ScareFest in September!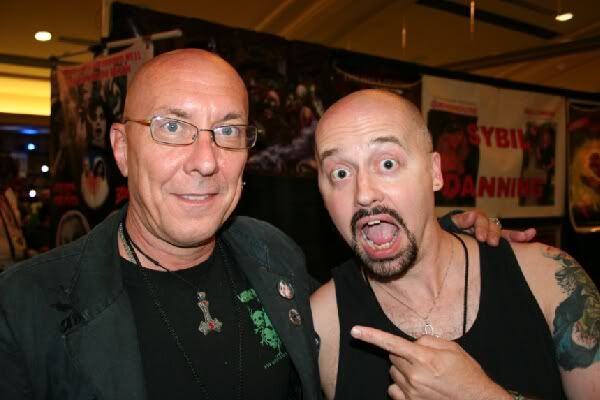 ABOVE: Jim O'Rear and Mike Christopher (the Hare Krishna zombie from DAWN OF THE DEAD).
Thanks for reading!
Jim O'Rear
www.JimORear.com