HELLO, FRIENDS…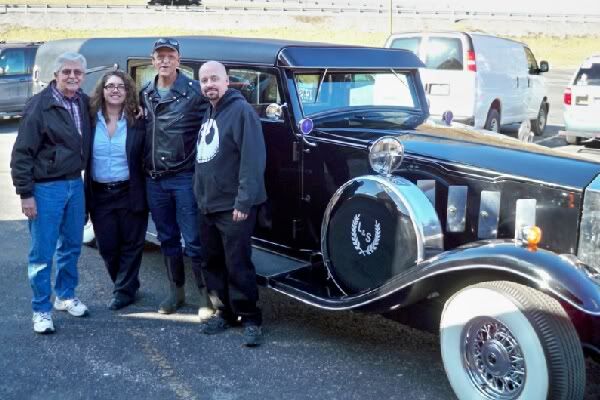 ABOVE: Dick "Michael Myers" Warlock (HALLOWEEN 2), Michael Berryman (HILLS HAVE EYES), and Jim O'Rear (DAY OF THE DEAD) stand alongside a Mercedes-styled hearse and its owner.
Pikeville, Kentucky… old stomping grounds of the Hatfields and McCoys and current stomping grounds for fans of horror and the paranormal at DARK WOODS CON 2010. Pikeville hosted a fantastic event this week filled with celebrities, vendors, contests, and film screenings. The promoters and organizers of DARK WOODS CON got everything right and made this an amazing event. Even more amazing is the fact that it was just their first year, yet everything ran as if they had been presenting this event for years.
THURSDAY:
I arrived in Pikeville Thursday night and went directly to the Landmark Inn to check in. Greeted at the front desk with a smile, I was handed an envelope that contained my room key and necessary information for contacting the other guests and members of the staff DARK WOODS staff. I was amazed at their preparedness… only 2 minutes to check in! In addition to the envelope, I was also presented with a fantastic gift bag that the convention had prepared for the guests, which included a lot of items made in the state of Kentucky. These people REALLY know how to make you feel welcome!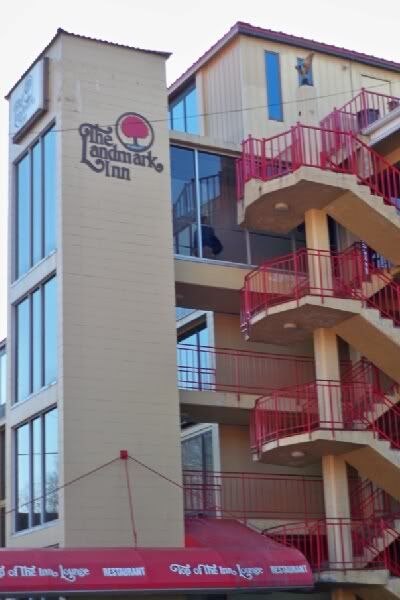 The Landmark Inn was charming… a "down home" restaurant, swimming pool with a slide, two heli-pads, a lounge, and more. But, my favorite part of the hotel (and a part that I thought was most charming) was this… I'm sure you've all used those little electronic keys that you swipe in your hotel room door which triggers it to unlock, right? Well, I LOVED this…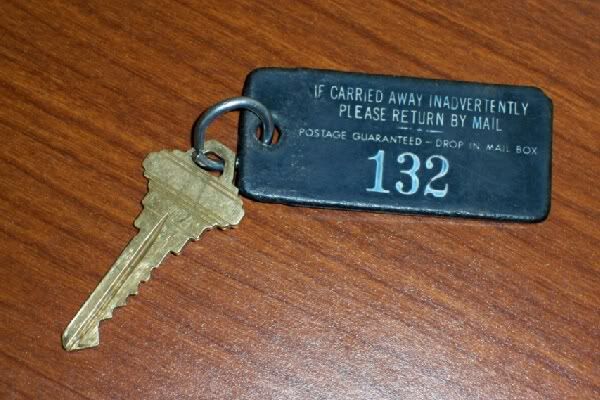 An actual KEY! I haven't seen a real hotel "key" in ages! Okay, maybe I'm easily entertained, but I loved this fact.
Walking to my room I heard a voice behind me that only said, "Jim O'Rear!" I turned around to be greeted by Michael Berryman (DEVIL'S REJECTS), who had also just arrived. I told him that I had just got a phone call from Daniel Emery Taylor (RETURN OF THE SWAMP THING) and there was a small get together in one of the rooms upstairs. Michael and I put our luggage away and headed upstairs to greet Daniel, his wife Ami, Tiffany Shepis (NIGHT OF THE DEMONS), and several others. Room parties were to become a nightly event during DARK WOODS where you could take part in some heavy drinking such as this…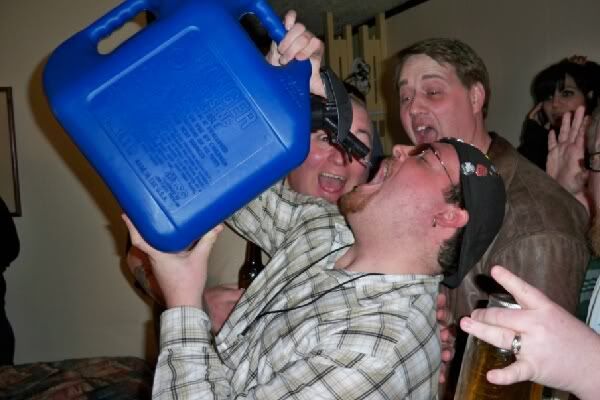 ABOVE: Jake Lemaster chugs down some homemade "Dragon's Blood" as Dave Rupp, Todd Burrows (ZP INTERNATIONAL), and Nicole Kruex (DECEIVED) watch on.
After a short time I retired for the night to get some rest for the long weekend ahead.
ABOVE: Dick Warlock (THE THING), Ultimate Zombie Artist Billy Tackett, Mrs. Ultimate Zombie Artist Heather Tackett, and Jim O'Rear.FRIDAY:
I woke up early on Friday so I could take a walk and breathe in some of that mountain air. The air was crisp and everyone I passed during my walk greeted me with a smile and a "hello." Apparently, Pikeville is a very friendly southern town. After my walk I went back to the hotel and ran into Dick Warlock (JAWS) and his wife Cathy. They invited me to breakfast… which was perfect because I had just walked up an appetite. Entering the restaurant we said hello to zombie artist Billy Tackett and Michael Berryman (also early risers) before sitting down for some country cooking.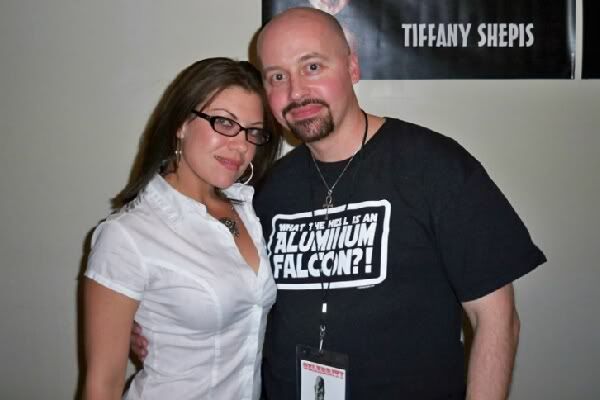 ABOVE: Tiffany Shepis (NIGHTMARE MAN) and Jim O'Rear.
The end of breakfast brought along the end of relaxation. It was time to head back and greet fans on the first day of the DARK WOODS show! The show opened with a bang. Vendors, celebrities, bands, and sideshow performers all mingled with the crowd. There seemed to be a little something for everyone, including a screaming contest, a "best Death By Electric Chair" contest, a costume contest, film screenings, and much more. Here's a small pictorial sampling…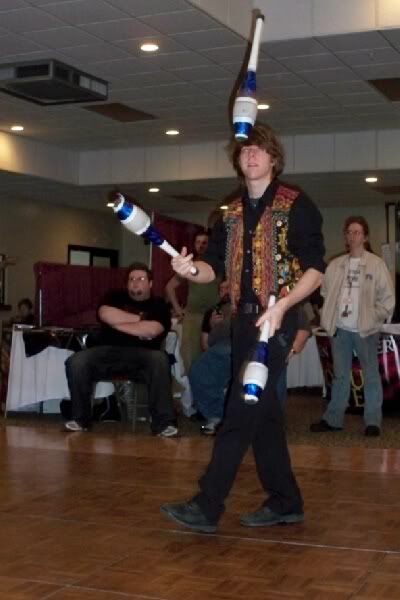 ABOVE: Guinness record holding juggler performs for the crowd.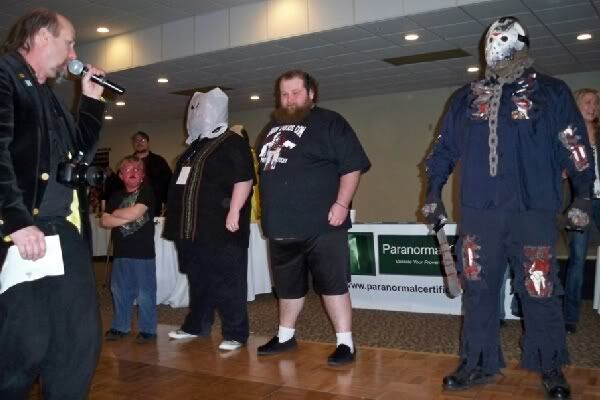 ABOVE: Daniel Taylor (ROAD TRIP) and TJ Moreschi (THE LEGACY) try to sneak into the costume contest with very lame outfits!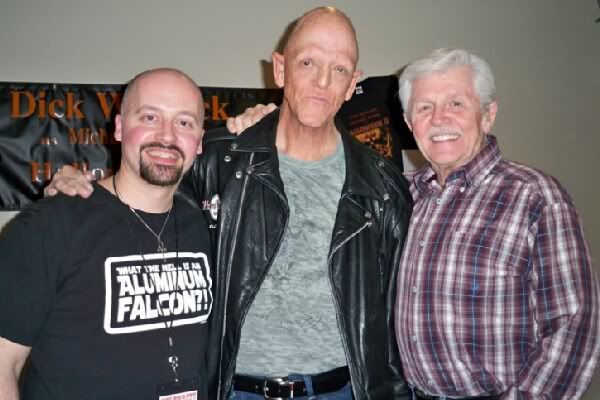 ABOVE: Jim O'Rear, Michael Berryman, and Dick Warlock.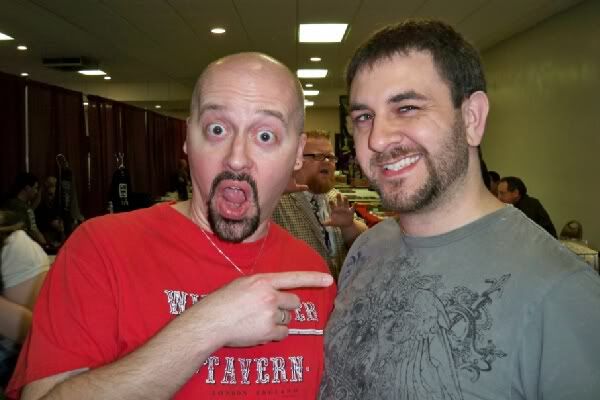 ABOVE: Daniel Taylor (THE LEGACY) photo-bombs Mike Holman (JACKASS) and Jim O'Rear.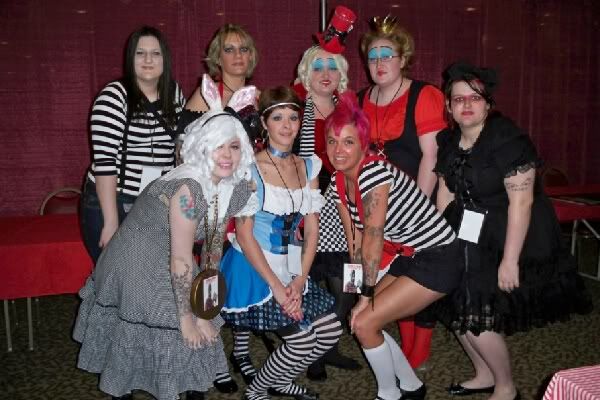 ABOVE: The Rad Girls descend upon the convention in ALICE-inspired wardrobe.
Friday coming to a close was not the end of the day's celebration. Fans and celebs joined in a variety of after-hours parties and dinner events around the hotel.
ABOVE: Mark Burchett (VAMPS 2) and Jessica Cameron (THE DEAD MATTER) grab some food at Huddle House.SATURDAY:
The Saturday events at DARK WOODS offered more screenings, seminars, and events to keep the fans occupied. It's probably easier just to show some more photos…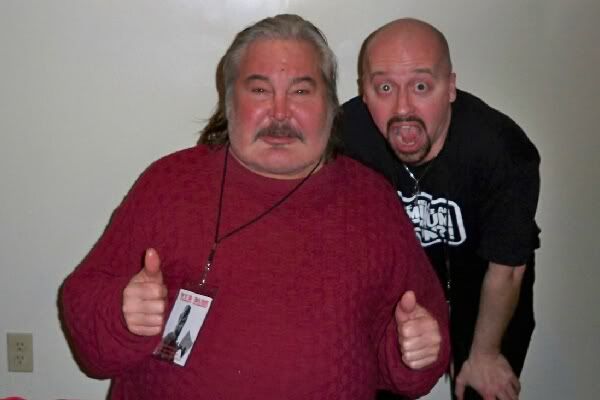 ABOVE: Jim O'Rear with Robert Z'Dar (MANIAC COP, TANGO & CASH).
ABOVE: Jim O'Rear is about to get smashed by wrestling legend Al Snow.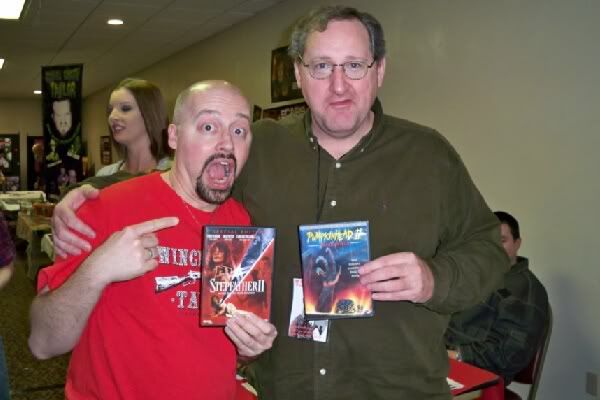 ABOVE: Director Jeff Burr (TEXAS CHAINSAW 3, PUMPKINHEAD 2) and Jim O'Rear.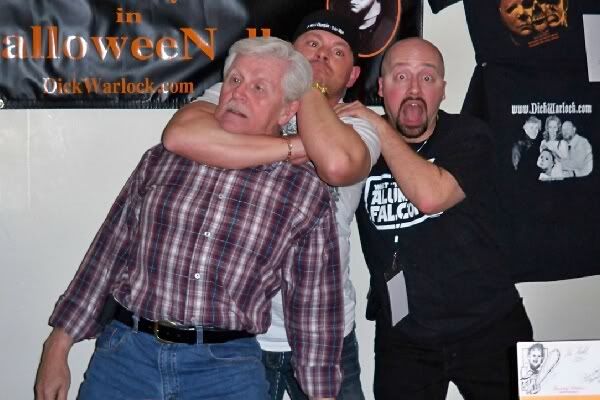 ABOVE: MMA Fighter Dale Miller takes down Dick Warlock as Jim O'Rear watches.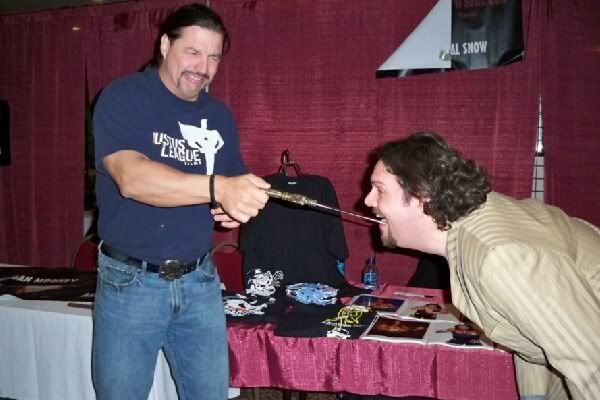 ABOVE: Wrestling legend Al Snow gets grossed out as he pulls a sword from the throat of a Pickled Brothers Side Show performer.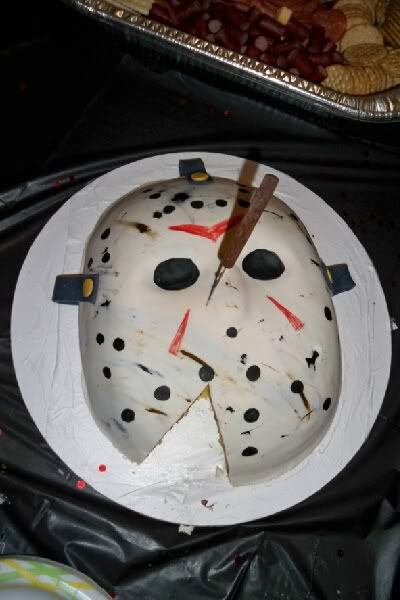 ABOVE: A cake made for the event in Jason's image!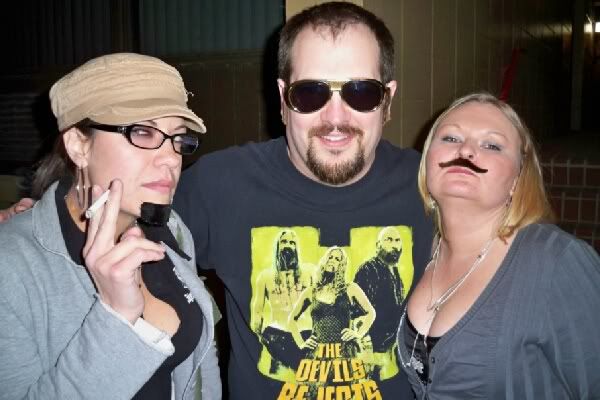 ABOVE: Tiffany Shepis and friends try to sneak around undercover, hiding behind moustaches and beards.
Saturday night hosted a special VIP Party which allowed the guests and fans to take over the hotel bar and unwind. The event had an impromptu guest DJ… Ari "Jason" Lehman (FRIDAY THE 13th); who also cut a rug on the dance floor.
ABOVE: DJ Ari Lehman (HELLEPHONE) cranks out the tunes from the booth!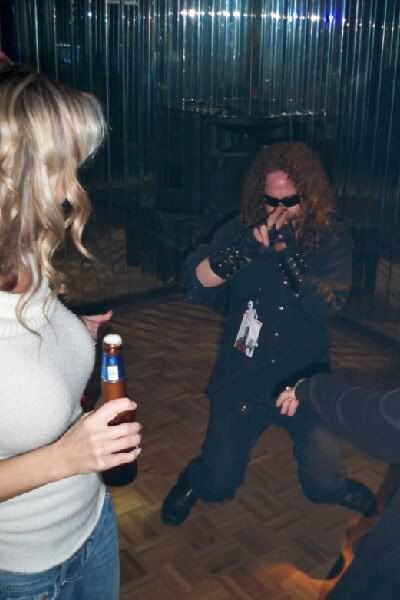 ABOVE: Ari Lehman is a dancing machine as Stacey Dixon (OLD HABITS) is schooled!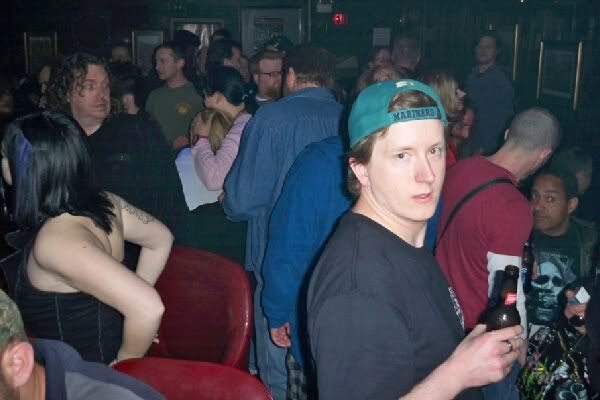 ABOVE: Brian Austin looks confused as the VIP Party fills quickly. Hidden among the crowd, can you spot Jeffrey Reddick (screenwriter of FINAL DESTINATION 1 & 2), Daniel Taylor (MOUNTAIN MAFIA), and Robert Logue (CYPOCRYPHY)?
Regular readers of my columns may remember a nasty incident that occurred last year at the World Independent Film Expo… a Dance Dance Revolution dance-off challenge between Daniel Taylor and TJ Moreschi. A rematch had been brewing for months and all it took was one person in the crowd shouting "DANCE OFF!" to make it happen…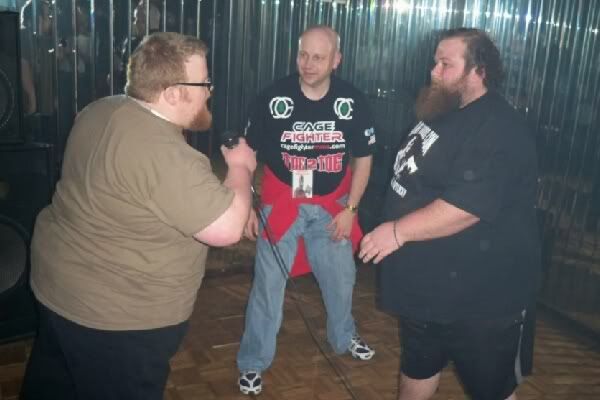 ABOVE: Daniel Taylor talk smack to TJ Moreschi during his dance-off rematch challenge.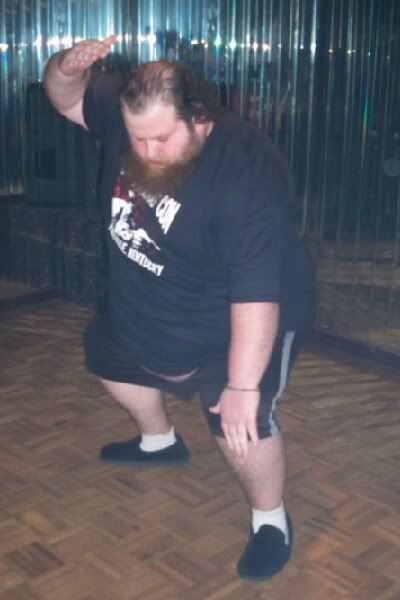 ABOVE: It's on as TJ Moreschi busts a move to "MY HUMPS" on the dance floor.
ABOVE: Not to be outdone, Daniel Taylor shakes his groove-thang!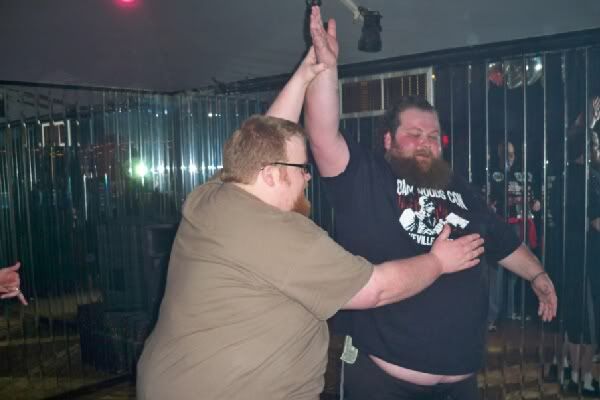 ABOVE: In the end, Daniel Taylor admits defeat at the hands of TJ Moreschi.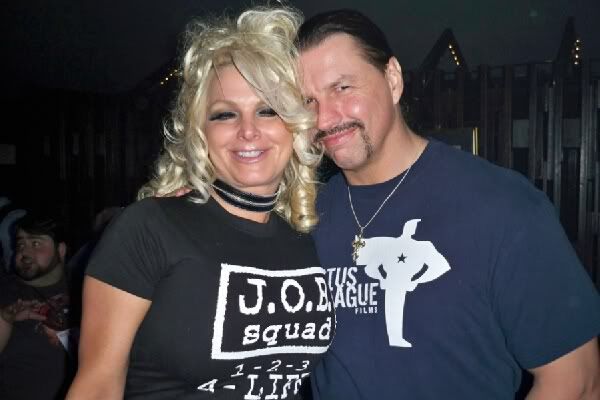 ABOVE: Wrestler Al Snow and his wife Bobcat can't believe what they've just witnessed on the dance floor.
It was the perfect close to Saturdays events!
SUNDAY:
Sunday morning came waaaaaay too early. But, the event started right on time. More fun with guests, movies, and a variety of entertainment and contests.
ABOVE: Playboy model and actress Alex Del Monaco surprises Jim.
ABOVE: Dark Zombie Master Artist Billy Tackett rocks the Panda hat!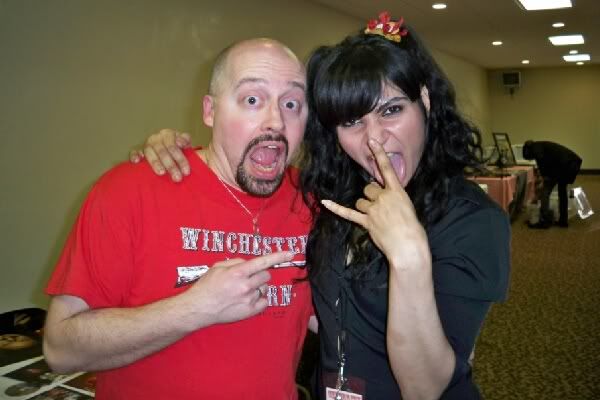 ABOVE: Nicole Kruex (TERROR OVERLOAD) and Jim O'Rear.
An awards ceremony closed the day on Sunday where Daniel Taylor received an appreciation award… making up for the terrible defeat he suffered the night before on the dance floor.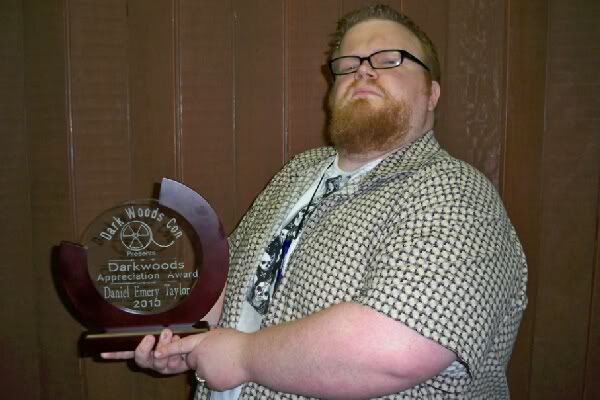 After the awards were over and dinner had been eaten, Daniel and Ami Taylor and I joined director Jeff Burr in his room to watch the Oscars and relax, where conversation topics ranged from Farmville to Religion (how's that for both ends of the spectrum?).
DARK WOODS CON was a complete blast from start to finish and a HUGE success. This team really knows how to put on a show and make everyone happy. I can't wait to see what they have planned for next year!! If you missed it this year, definitely watch for next years dates to be announced and plan early.
Thanks for reading,
Jim
www.JimORear.com