HELLO, FRIENDS…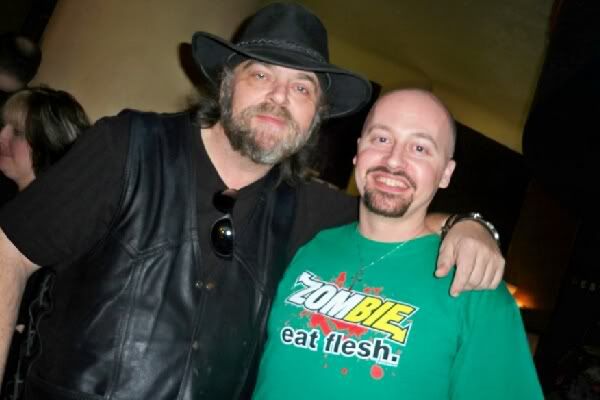 ABOVE: Jim O'Rear & paranormal investigator Keith Age.
I've just returned home from Indiana's PARANORMAL SCAREFEST and what a fun trip it was! I started my drive to Indiana on Friday morning, leaving Tennessee in the middle of freezing temperatures and heading north into further freezing temperatures. I had no idea that there would still be several feet of snow on the ground when I arrived in Indiana!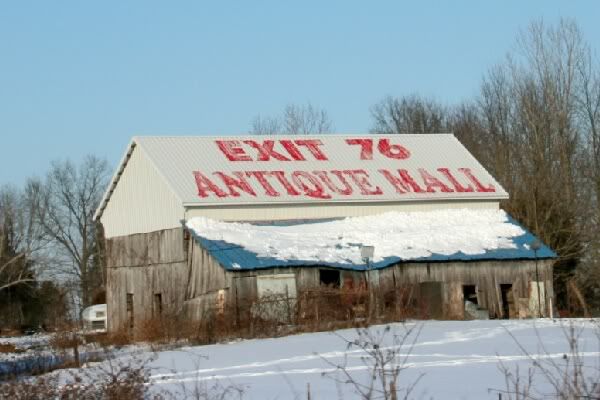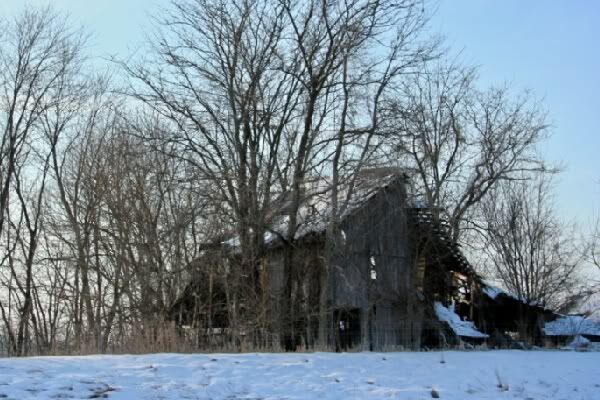 ABOVE: A beautiful, snowy Indiana welcome!
Friday evening I met up with an old friend for some dinner and a sneak screening of a film I recently completed before heading off to the hotel for some much needed rest. The event started Saturday morning and it was scheduled to be a long day.
ABOVE: The historic Crump Theater.
I awoke Saturday to more freezing temperatures and had to scrape the ice off of my car before heading to the Crump Theater in downtown Columbus, IN. This wouldn't have been so bad, but I received a call from Tennessee stating that as soon as I left... the temperature warmed up to a very comfortable 70 degrees! Figures! Rub it in.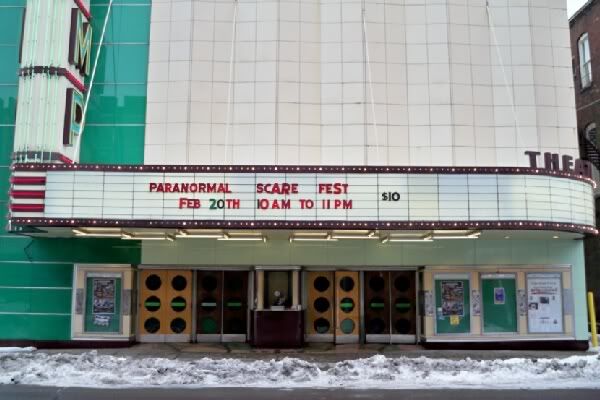 I love old buildings and the Crump Theater was a fantastic one! A great place for the event to be held… especially since it was a paranormal festival and the Crump is known to be haunted.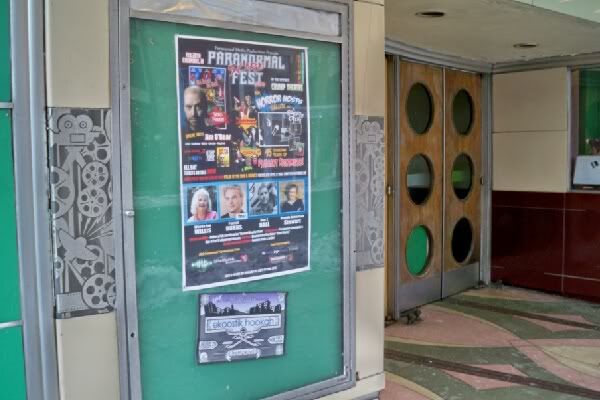 ABOVE: The entrance to the Crump Theater.
The Crump was opened in 1889 as an opera house. In 1914 the first movies were shown. In 1934, seating was increased when the orchestra pit was removed. The theater underwent renovation in 1941 and was redesigned in "Art Moderne" style, including its dramatic façade with two-story tall vertical marquee, illuminated by chaser lights.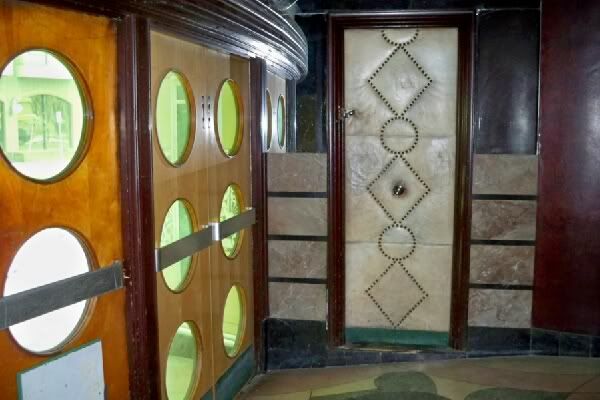 ABOVE: The entry area between the box office and the theater.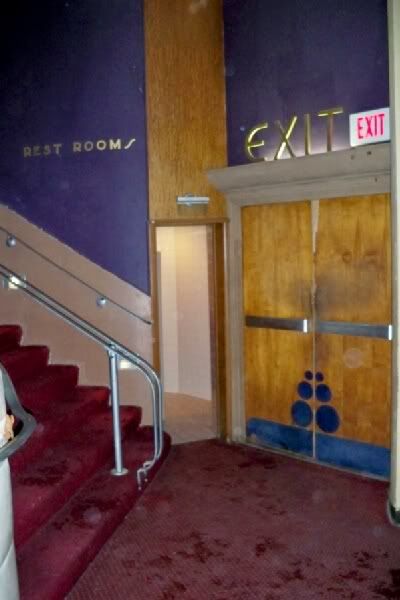 ABOVE: "Art Moderne" décor inside the Crump.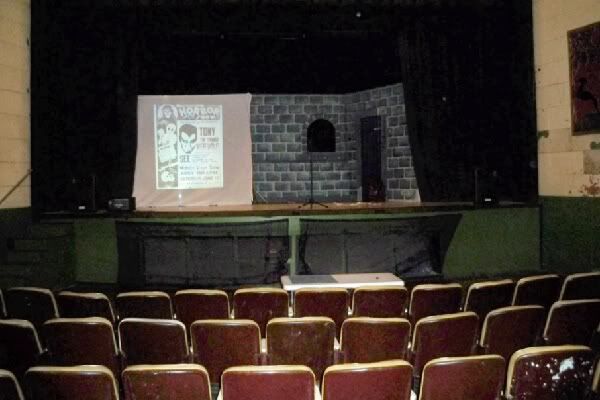 ABOVE: The Crump Stage.
The theater closed in 1987 and new restoration began in 2001. It's a beautiful location.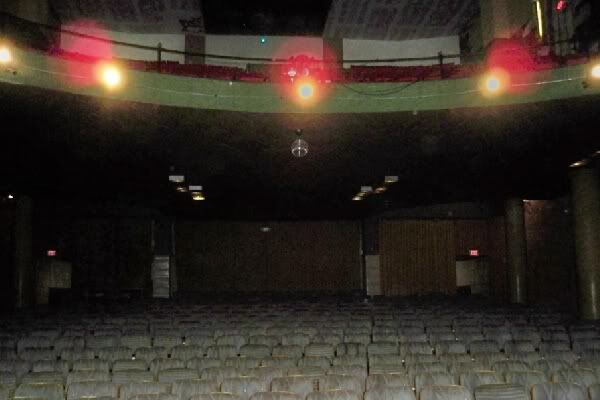 ABOVE: The Crump balcony.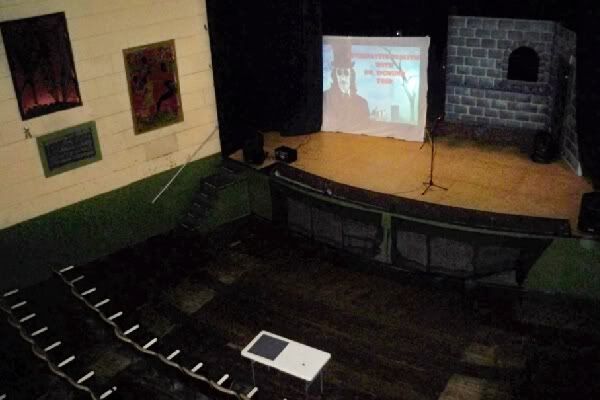 ABOVE: The stage as seen from the balcony.
But, enough about the theater. PARANORMAL SCAREFEST was a mixture of paranormal/horror guests and vendors. You could find everything from horror movies to t-shirts to electronic paranormal investigation equipment, as well as meet several guests such as the SyFy channel's Keith Age (SPOOKED, CHILDREN OF THE GRAVE) and Patrick Burns (HAUNTING EVIDENCE).
ABOVE: Jim O'Rear & Patrick Burns.
There was a great turnout of fans, who braved the snow and chilly temperatures to enjoy the seminars that were planned for the day. There were even several costumed characters on hand!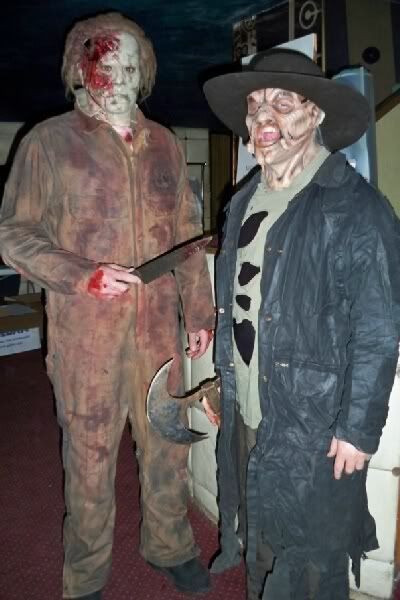 ABOVE: Michael Myers & the Jeepers Creepers gargoyle prowl the premises.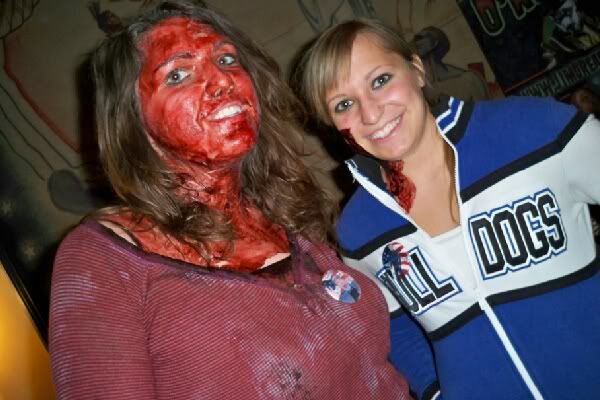 ABOVE: Looks like these girls ran into a bit of trouble.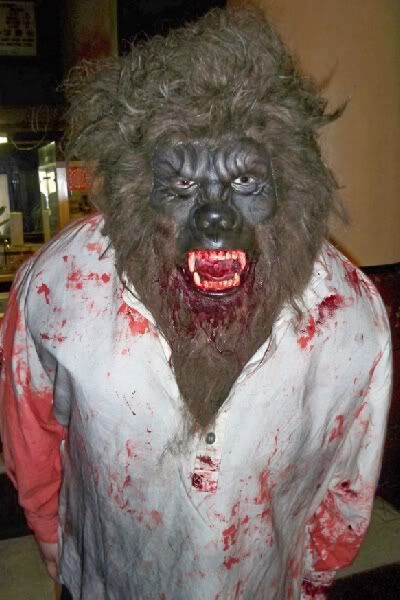 ABOVE: Don't mess with the Wolfman!
AND… street performers with fire!!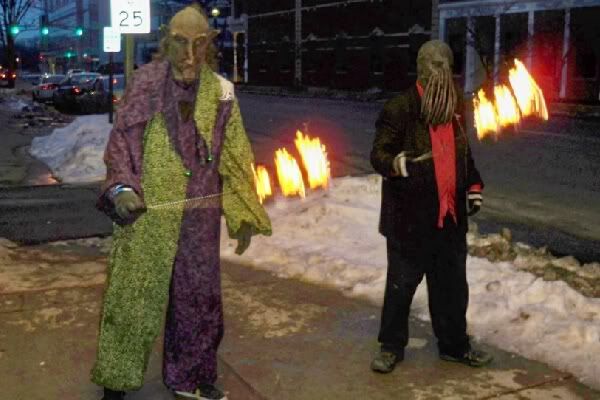 Later that night the event hosted a special sneak screening of a new movie I appear in with Kane "Jason" Hodder (FRIDAY THE 13TH, HATCHET), Tricia Cast (YOUNG & THE RESTLESS), Roger Hewlett (DEXTER, ROADHOUSE), and Stacey Dixon (SHUDDER) called OLD HABITS DIE HARD… followed by a screening of a movie I appear in with Gunnar "Leatherface" Hansen (TEXAS CHAINSAW MASSACRE), Debbie Rochon (AMERICAN NIGHTMARE), and Ted Alderman (SCREAM FARM) called THE DEEPENING. After the films it was Q&A time to give the crowd some background and more info on these films.
ABOVE: Jim leads a Q&A session.
At midnight it was time for a ghost hunt! Keith Age and Patrick Burns led people on an overnight paranormal investigation through the Crump. I was especially excited to try out some new technology that Keith had… a piece of equipment called The Puck. This new piece of gagetry works kinda like a Frank's Box except that it uses a computer to allow the spirits to talk to you. It's almost like EMAILing with the spirit world. Yes… we did get a few messages from beyond through the computer and two of the investigators were touched by an entity (one of whom was so upset by the experience that she had to flee the theater).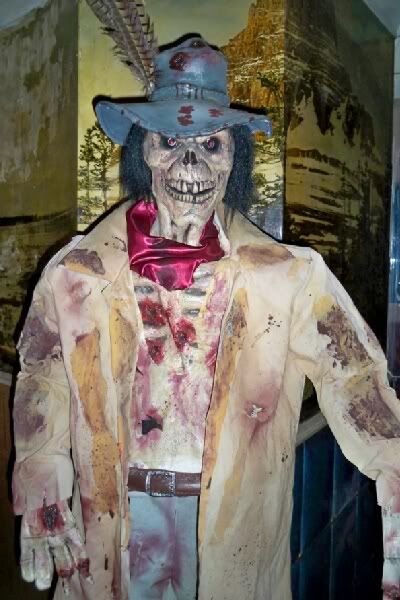 ABOVE: A cowboy skeleton watches over Paranormal Scarefest.
It was early Sunday morning and time to hit the bed! I had to be in Louisville, KY, a few hours later for a casting session.
Indiana's Paranormal Scarefest was a blast! I want to thank everyone who came out to see me and I hope to see everyone again at their next event!
Thanks for reading,
Jim
www.JimORear.com