SCARS Readers…..
I've been on the set shooting THE DEVIL'S PLAYGROUND for several days, with a few more days in the schedule to go, and thought I'd take a brief break to give you a sneak peek at this production.
ABOVE: Jim O'Rear gets nasty with Olivia (DEMON SIGHT) Lovell.
THE DEVIL'S PLAYGROUND is a horror/thriller from Rowdy Films, currently being shot in Millport, KY, by writer/director Matt Ferguson. It follows the plight of four young women as they try to avoid a sadistic Satanic cult hell bent on bringing about Armageddon.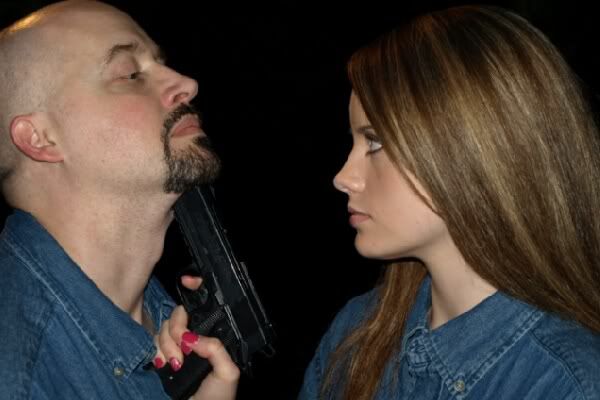 ABOVE: Jim O'Rear and Kayla (HELL-EPHONE) Perkins.
The film stars myself, Olivia (THE SHELTER) Lovell, Misty (BRIMSTONE) Simmons-Poteet, Kayla (HELL-EPHONE) Perkins, Matt Ferguson, and James May. I'm told that the entire production and post-production schedule is in high gear and the film should be available for viewing later this year.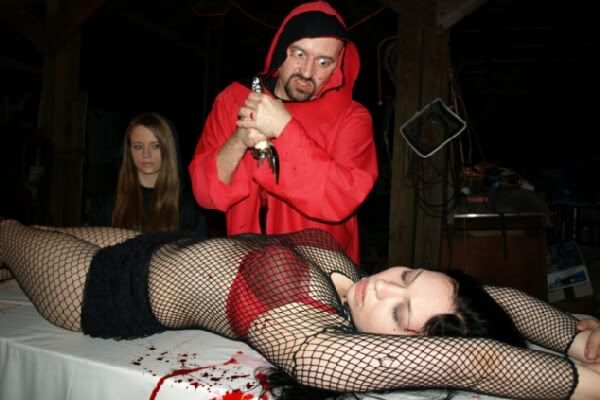 ABOVE: Jim O'Rear gets sadistic with Misty Simmons-Poteet as Kayla Perkins watches.
The weather on this shoot has not cooperated, as we have been beaten to death by thunderstorms, flooding, and small mudslides every day… but the cast and crew have been dedicated and diligent. The director, Ferguson, doesn't sweat as he rearranges the shots and locations, on the fly, to suit the particular bit of weather we're fighting at any given moment. The film moves forward despite Mother Nature's intentions!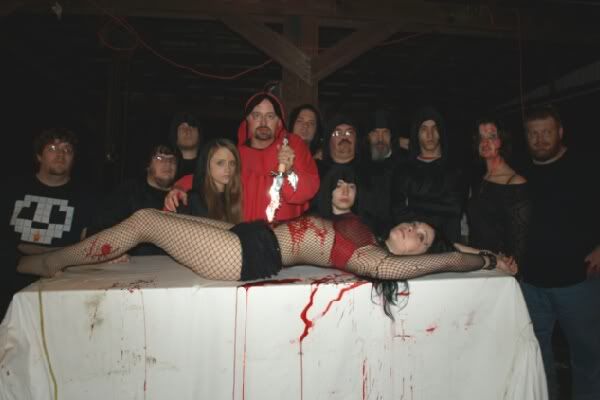 ABOVE: Cast and crew members pause for a photo-op.
I've been having a blast in Kentucky and look forward to seeing the finished product later this year, as well as looking forward to working with the gang at Rowdy Films again in the near future!
Thanks For Reading!
Jim
www.JimORear.com