ABOVE: Cast Members From HELL-EPHONE Pose For The Paparazzi.

HELLO, SCARS READERS…

I just returned from the WORLD INDEPENDENT FILM EXPO (held in Richmond, KY), and had a blast! This 3-day event was packed with fun, entertainment, and education. It was also an opportunity to catch up with old industry friends and make several new ones.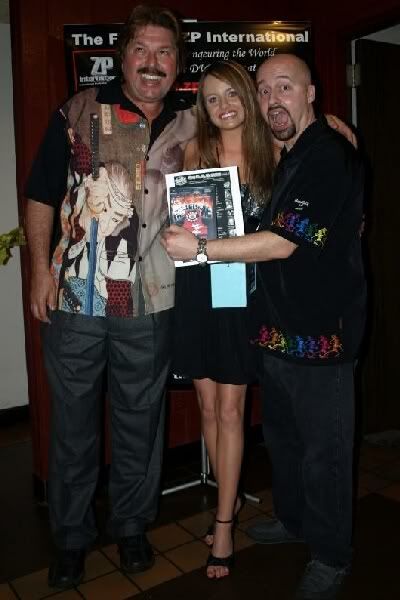 ABOVE: George Bonilla, Kayla Perkins, And Jim O'Rear At The HELL-EPHONE World Premiere.

I rushed into Richmond directly from the Indiana set of HELL HOUSE (another blog will be coming soon about this fine, upcoming film) on late-Friday afternoon. After checking into the hotel and washing off my makeup from the set, I met up for a brief press interview regarding my appearance at the expo and the premiere of ZP International's new movie HELL-EPHONE that would be debuting later that evening.

After the interview I received a phone call from Kayla Perkins and John Cory Stringer (both co-stars in HELL-EPHONE) who asked me to join them for a quick bite to eat at Red Lobster before the screening. With bellies full, we proceeded to the University Multiplex for the official world premiere of HELL-EPHONE (featuring myself, Daniel "Return Of The Swamp Thing" Taylor, John "Texas Chainsaw Massacre" Dugan, Alex "Playmate" Del Monacco, Ari "Friday The 13th" Lehman, Jason "Dead Moon Rising" Crowe, and Melissa "Playmate" Wolfe).



ABOVE: Tucky Williams, Jim O'Rear, And Kayla Perkins Do An Interview For B-Movie Man.

BUT, before the premiere it was time to do another interview… this time with Nic "B-Movie Man" Brown. Kayla Perkins and I sat down for a few minutes to be interviewed by Tucky "Dead Moon Rising" Williams for Nic's website (www.bmovieman.com) and discussed past and current projects. Look for this video interview to be posted to Nic's site very soon.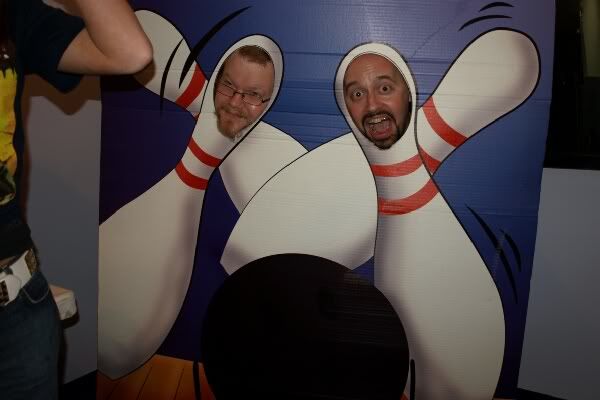 ABOVE: Daniel Emery Taylor And Jim O'Rear Clown Around.

Meeting up with Daniel and Ami Taylor, Billy and Heather Tackett, Katie "The Devil's Playground" Stanley, Alex Del Monacco, director George Bonilla, and many of the stars of HELL-EPHONE… we entered the theater for the official world premiere. The film was well received by all and it was a blast to watch it with the other cast and crew members. After the screening, it was off to a quick dinner with friends before crashing and resting up for the big day that Saturday had in store.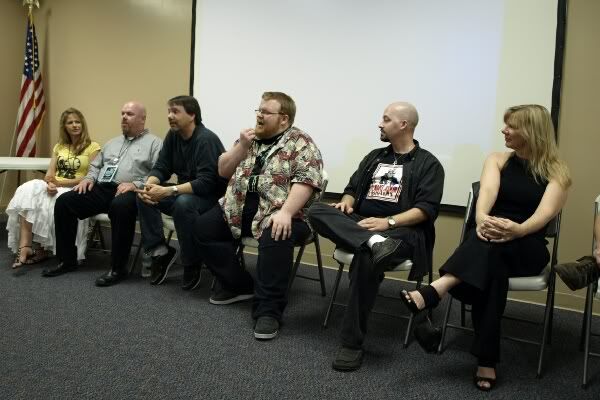 ABOVE: Acting In Films Seminar.

Saturday's events began with a bang. It was a day filled with educational seminars, film screenings, celebrity signings, and dealer room fun. I had been asked to participate in several of the planned seminars for that day, including panels on directing films, stunt fighting, and acting in films. It was my pleasure to be a part of these seminars alongside such talents as Jacob "Stash" Ennis, Daniel Emery Taylor, David "The Dark Knight" Fultz, Mark "Dead Moon Rising" Poole, Jason Crowe, Cherokee "Mountain Mafia" Hall, Jerry "Purvos" Williams, Hilljack "Nightmare Fuel" Parks, and many more.



ABOVE: Jim O'Rear and David Fultz Give A Stunt Fighting Seminar.

There were so many talents from the independent film community present that I can't possibly list them all. And the really surprising thing… so many talents in one location and absolutely NO egos present! The entire day (and weekend, for that matter) carried along a feeling of camaraderie and union. A group of people with the same interests joining together for a group sharing experience. It was a really nice feeling.



ABOVE: Misty Simmons-Poteet (INCORPOREAL) Sports New Headware In The Dealer/Celebrity Room.

After participating in several seminars, I hopped over the dealer/celebrity area to autograph some items and visit with horror artist Billy Tackett and his lovely wife Heather, Joel Robinson (another horror artist), stars from reality shows like The Amazing Race and Hell's Kitchen," Matt and Luke Ferguson (my friends from The Devil's Playground), Misty "Incorporeal" Simmons-Poteet, Don "Chainsaw Cheerleaders" Babb, and more.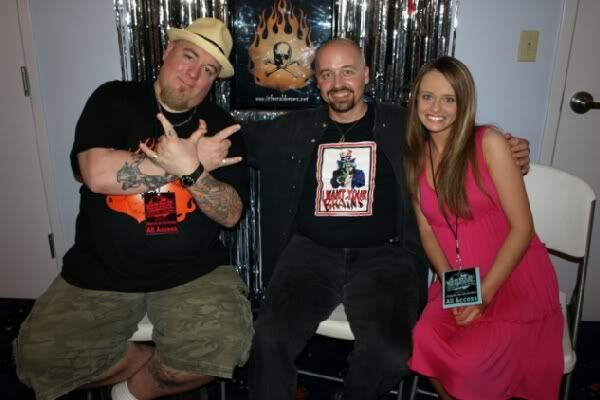 ABOVE: Dirty Dave, Jim O'Rear, & Kayla Perkins During The Infernal Dreams Interview.

Interview time, again. This time with the fine folks from Infernal Dreams. Again, Kayla Perkins and I teamed up for a double interview with "Dirty Dave," discussing past and present projects. Look for this video interview to hit their website (www.infernaldreams.net) within the next few weeks.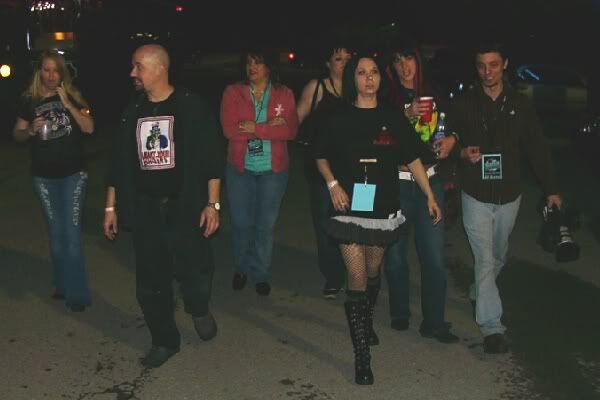 ABOVE: A Motley Crew Heads Out For Some Fun – Michelle Perkins, Jim O'Rear, Heather Tackett, Ami Taylor, Misty Poteet, Roni Jonah, and Jason Crowe.

A long, fun, productive day came to a close and the expo proved that, in this industry, when you work hard… you party hard! The evening was full of fun activities, including a Metallica tribute band, named Battery, that kicked some serious ass, lots of drinking, good food, and great fellowship with industry folks.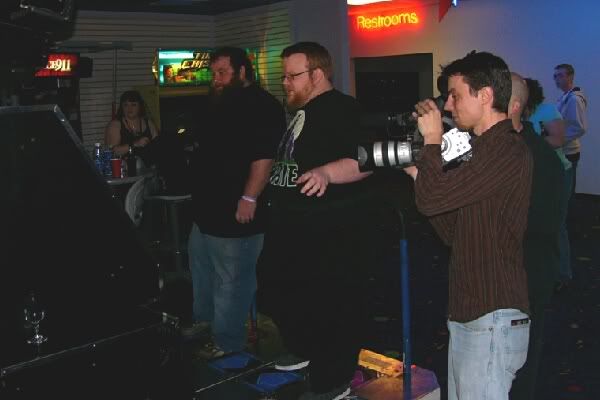 ABOVE: TJ Moreschi & Daniel Taylor Face Off While Jason Crowe Films The Event.

One of the funniest highlights of Saturday night, however, came in the form of a serious challenge. Yes, Daniel Emery Taylor and T.J. "Bottle Rockets" Moreschi were going to go head-to-head on Dance Dance Revolution Extreme beginning with the song selection titled "Little Bitch!" How did this come about, you may wonder? Honestly, I can't remember… but, what started as a joke turned into an all-out dance off, complete with smack talk. Jason Crowe filmed the entire challenge, hosted by myself, before both of the competitors collapsed from near stroke-like conditions. Daniel Taylor came out victorious, dominating the scoreboard, but T.J. promised to take the prize at next year's expo. Watch for the 2010 event when these titans of the dance machine go head-to-head once again!



ABOVE: Daniel Emery Taylor Strokes Out After A Solid Victory!

Sunday was another day packed with film screenings, seminars, and award ceremonies. I had the pleasure of conducting a panel on filmmaking with George Bonilla and Belinda Cooke, of ZP International, and Daniel Emery Taylor, which was filled with a variety of information about making your own indie films. It was also another great day for more industry networking.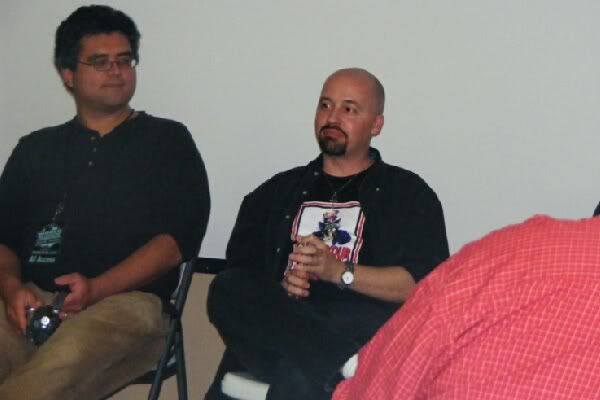 ABOVE: Jim O'Rear Answers Questions During The Director's Panel As Jerry Williams Looks On.

I'd like to congratulate all of the winners who took home prizes at the World Independent Film Expo and thank the event organizers for inviting me to their fantastic first-year festival. I can't wait to see how this event grows and I look forward to appearing there again in the future.

Thanks for reading,
Jim
www.JimORear.com