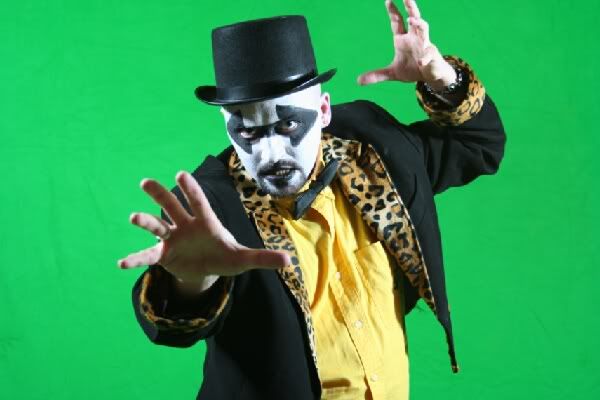 ABOVE: Jim O'Rear in front of the green screen as The Ringmaster in HELL HOUSE.

HELLO, SCARS READERS…

I've recently returned home from the Indiana set of HELL HOUSE, a new feature from Feathered Italian Films that is being directed by Jason (DEAD MOON RISING) Crowe, and thought I would give you a little sneak peek at this production. The film features a ton of people, including wrestler Al Snow, Daniel Emery Taylor (Return Of The Swamp Thing), and Leslie Rogers (Monstrosity)… just to name a few.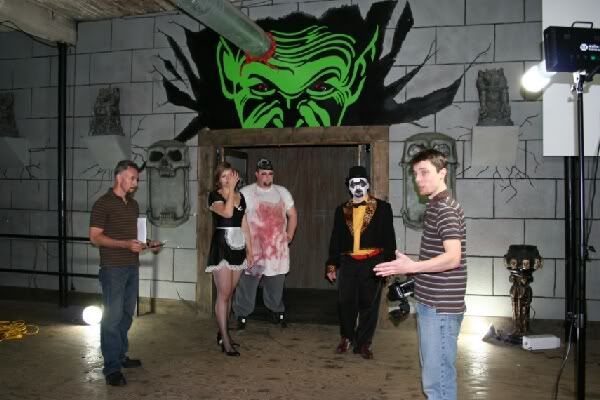 ABOVE: Jason Crowe prepares to shoot a scene inside the Hell House.

I play "The Ringmaster" in this film… the manager of Hell House. The movie, based on a true story, focuses on a family of misfits who have been wronged and seek vengeance on a town that allowed their family members to die.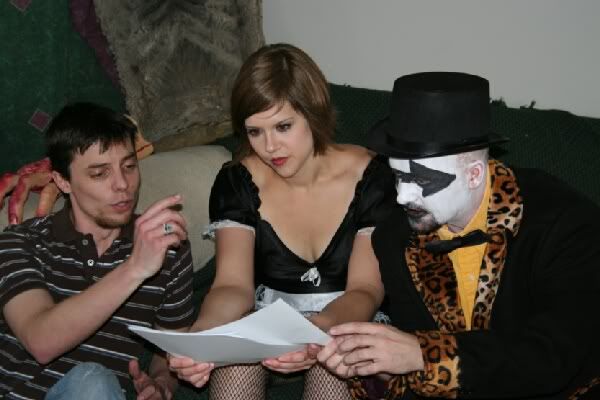 ABOVE: Jason Crowe runs through the details of the next scene.

HELL HOUSE promises lots of thrills, lots of kills, and lots of chills… look, I rhymed!! Ha ha ha! The film also sports some fine comedic moments, inside industry jokes, and subtle humor… especially in some of the scenes I saw being shot with Daniel Taylor. Donuts have never looked so good!!! (You'll understand when you see the finished film)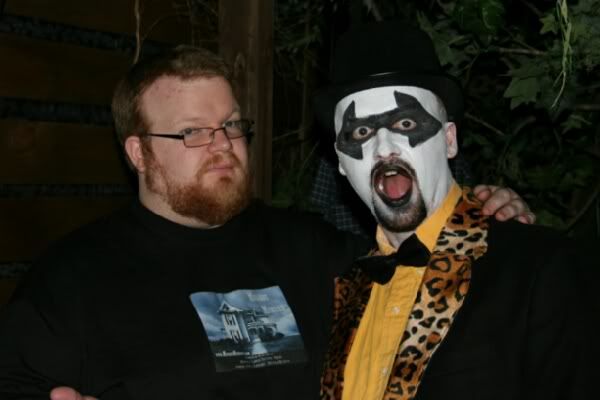 ABOVE: Daniel Emery Taylor & Jim O'Rear hang out in the darkness of Hell House.

This was my first time working with Feathered Italian Films, a partnership between Jason Crowe and TJ Moreschi, and I must say that it was a pleasure. Jason knew what he wanted to capture in the scenes and he worked well with his cast and crew, moving from one set up to the next quickly and efficiently.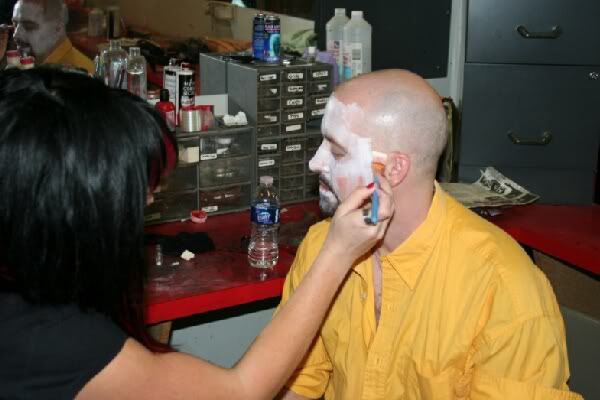 ABOVE: Roni Jonah turns Jim O'Rear into The Ringmaster.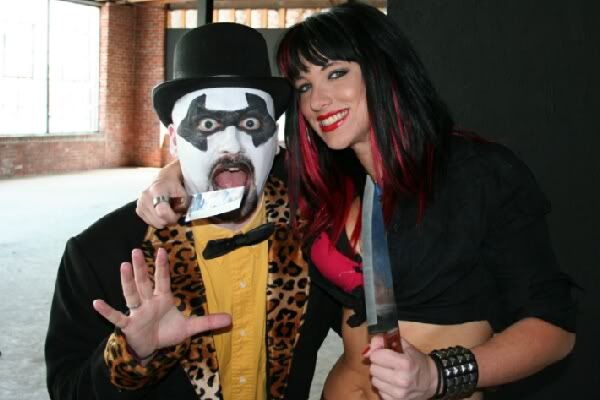 ABOVE: Jim O'Rear and Roni Jonah.

I had a great time on the set of HELL HOUSE and can't wait for the opportunity to work with this fine group of people again. The film still has quite a bit of production time left with a release date not yet set, but keep your eyes open for this one in the future.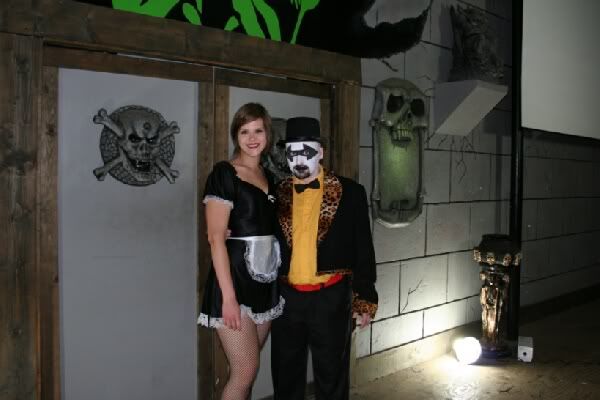 ABOVE: Does Hell House need a little cleaning?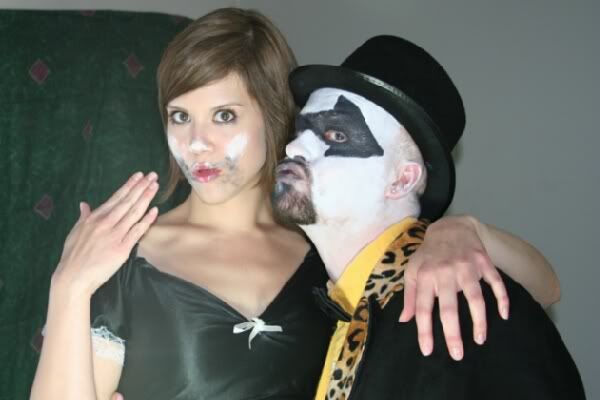 ABOVE: Hey… how did Jim's makeup get smeared on her face? They've been naughty!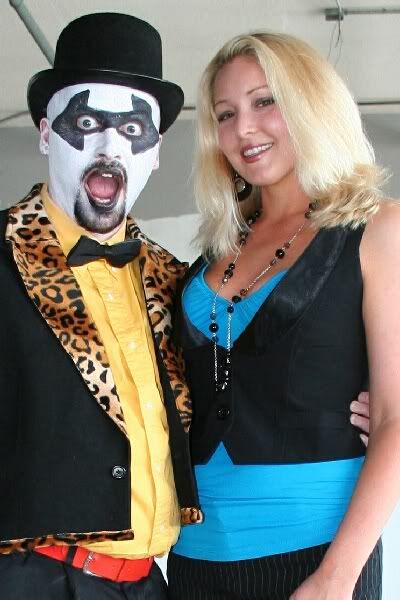 ABOVE: Jim O'Rear and co-star Leslie Rogers.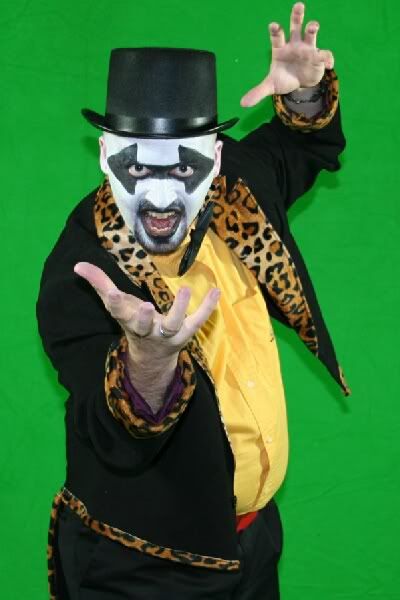 ABOVE: Jim O'Rear as The Ringmaster.

Thanks for reading,
Jim
www.JimORear.com