ABOVE: UNDERGROUND ENTERTAINMENT's Jim O'Rear & Bryan Wilson.
For the past week, many have been following the story of the attempted censorship of our new all-star documentary, UNDERGROUND ENTERTAINMENT: THE MOVIE… which, ironically, focuses on the topic of censorship. My business partner, Bryan Wilson, and I thought it was time to make an official statement concerning this and let the public know the strange details of the case and UNDERGROUND ENTERTAINMENT's future association with the B Movie Celebration and The Artcraft Theater.
I'll try to keep this as brief and succinct as possible, because I'm sure you don't want to read a book about this.
The B Movie Celebration, run by Bill Dever in Franklin, Indiana, promotes itself as a supporter of independent cinema and filmmakers, claiming a desire to advance the culture of independent movies that are made outside of the Hollywood system. But, apparently, that is only true if your film happens to also agree with their religious and moral beliefs.
I'll start by saying this… I've been involved with the B Movie Celebration for the past five years. I was there from the start. Bryan and I love independent films and the people who make them. They're edgier and make more of a statement than typical commercial Hollywood films.
Bryan and I were approached by Bill Dever several months ago. He really wanted the world theatrical premiere rights to screen our new documentary, UNDERGROUND ENTERTAINMENT, at this year's celebration. The film is about a television show Bryan and I created twenty years ago that broke a lot of ground for home genre entertainment. On this twenty year anniversary of the show, we set out to document our struggles with censorship and what could and could not be shown on television. Several top genre celebrities joined the film to pledge their support of the old show and give their testimonials concerning its impact on the world today… people like Robert "Freddy" Englund (NIGHTMARE ON ELM STREET), Danielle Harris (HALLOWEEN), Ernie Hudson (GHOSTBUSTERS), William Forsythe (THE DEVIL'S REJECTS), Tony Todd (CANDYMAN), Tom Savini (PLANET TERROR), Lloyd Kaufman (TROMA King), Mel Tillis (CANNONBALL RUN), Daniel Taylor (RETURN OF SWAMP THING), James Hampton (SLING BLADE), and many others.
We had offers to screen the world premiere at much larger events, but because I had been associated with the B Movie Celebration for the last five years we agreed to screen it there… with only one condition. The condition was that the movie screen on Saturday, September 24th, at the Historic Artcraft Theater. We were guaranteed, repeatedly by Bill Dever, that this would be done.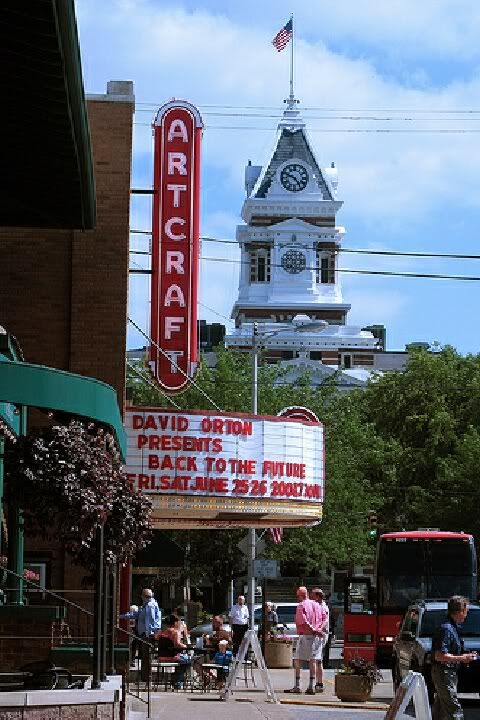 ABOVE: The Historic Artcraft Theater – Franklin, IN
After months of advertising the premiere, promoting the town of Franklin and the B Movie Celebration, and attendees purchasing plane tickets, rental cars, etc, to attend the screening, we received a call from Bill Dever on Monday stating that the Artcraft refuses to play an uncensored version of the film and that there's nothing he could do but offer to screen the film inside an office with twenty-five chairs or outdoors inside a tent. Of course, neither of those choices is a realistic option for a "world premiere."
When Bill was asked if he rents the Artcraft out for his event, his answer was "yes." So, logically, as a renter of the venue, he should be able to screen any film that he wants to for his private event. I was informed that this wasn't the case; that Rob, the owner of the Artcraft, had certain "beliefs" and that he wouldn't screen the film in its current uncensored cut because of the "material" it contained. Again, ironic considering the film is about censorship. What "material" is so upsetting? It's a documentary.
Well, excuse me, but we had a deal… and the deal was that U.E. would screen on Saturday at the Artcraft in exchange for us giving him the world theatrical premiere rights. There were no conditions that an independent film had to meet a certain religious code. I thought this celebration was set up to support the independent artists and further the culture of independent cinema, not to snuff out independent films that have a voice and something legitimate to say. This is the type of irrational behavior that religious fanatics, such as those of the Westboro Baptist Church, participate in as an attempt to step on people's First Amendment rights and further their own agenda.
When I asked Bill why he didn't just pull his rental money away from the Artcraft and screen his films somewhere else, his story suddenly changed. Now he informed us that the venue was, actually, rented using public funds by his friend… the mayor of Franklin, Fred Paris. Really? The mayor is misusing public funds to support his friend's private film festival? Does the town of Franklin know about this?
You see, this now complicates matters even further because not only is this a blatant misuse of public funds but it now starts to infringe on another set of rights we are promised in America. Follow me here… Why is a politician using public funds to rent a non-religious venue whose owner is making decisions based on their religious beliefs to determine what the public is going to see at a private event? What happened to the separation of church and state? A state office is using the town's public funds to impose their religious beliefs on people by censoring the films it wants you to see at a private event. Am I the only one that sees something incredibly wrong and unconstitutional about this?
ABOVE: UNDERGROUND ENTERTAINMENT's "Banned In Franklin" Poster.
Due to Bill Dever's track record of less-than-accurate information, we contacted the mayor's office to see if we could get more clarification and a statement on this matter. We left phone messages and sent emails directly to Fred Paris to allow him to comment on this misuse of public funds and the attempt of a public official's rented venue to censor a film and impose personal religious beliefs on attendees, but he refused to respond. Sometimes silence speaks much louder than words, Mr. Paris.
As of this date, there has been no resolution to this matter. So, unfortunately for the people who have spent money and made plans to come see the promised screening of U.E. at the B Movie Celebration, this screening is not going to take place. We hope that Bill Dever and the B Movie Celebration have the morals, like the ones they are trying to impose on others, to honor any and all refund requests of those who are disappointed with this turn of events. Unfortunately, this doesn't help with airline refunds, and such… but at least it's something.
In addition, due to the convictions of Bryan and I and our spotless reputations in this industry, we cannot associate ourselves with an event that operates under shifty business practices and displays these types of blatant flaws in integrity. Not to mention one that wants to tiptoe on our First Amendment rights and try to impose their religious beliefs on others by censoring films they've invited to screen at their festival. Therefore, Bryan and I will NOT be attending the B Movie Celebration or their sister event The World Festival Of Scream Queens. Because of this, we have also been informed that other guests and filmmakers are pulling out of the event and will not be appearing, either. Just last night we also received emails from some advertised guests who stated they were "uninvited" to the event by Bill Dever and won't be appearing. It now has us wondering, will ANYONE be there? We understand that these guest changes and our decision may cause other attendees, participants, and filmmakers to withdraw, also, who were looking forward to this. We apologize to those people and we appreciate your support in this matter.
Finally, the last word we heard from Bill Dever, in an Email, was that it was very possible that this entire event may be cancelled and not happen at all. So, with this in mind, make your weekend plans wisely. If we hear any additional info, we will let you know. We will also be scheduling a new world premiere screening of UNDERGROUND ENTERTAINMENT: THE MOVIE at another event in the very near future.
Thank you,
Jim O'Rear and Bryan Wilson
www.UETheMovie.com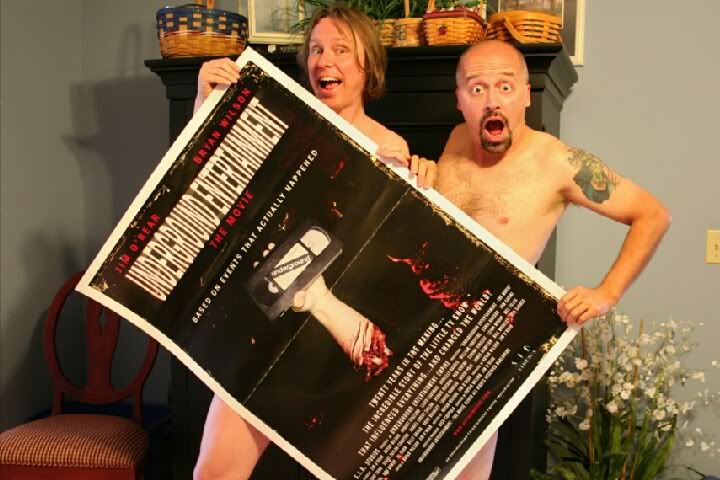 ABOVE: UNDERGROUND ENTERTAINMENT's Jim O'Rear & Bryan Wilson.