FRIENDS...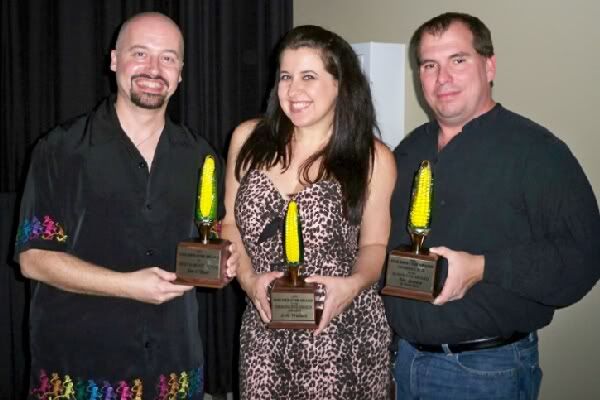 ABOVE: Previous Golden Cob Winners - Jim O'Rear, Lola Wallace, & Nic Brown
The Golden Cob Award nominations have just been announced. These awards celebrate and recognize excellence in independent cinema. I have been fortunate enough to be selected as a nominee in the category of "Best Leading Actor" this year. There are some very strong and exciting nominees this year, so please take a few minutes to vote.
Here's a list of this year's nominees:
BEST SCREAM QUEEN:
Debbie Rochon - Slime City Massacre
Victoria Maurette - Bulletface
Kristina Klebe - Zone of The Dead
April Monique Burrill - Chainsaw Sally
Brooke Lewis - Slime City Massacre
BEST LEADING ACTOR IN B MOVIES:
Jim O'Rear - The Dead Matter
Brian Krause - War Birds
Ken Foree - Zone of The Dead
Jeffrey Combs - Dark House
Bill Moseley - Repo The Genetic Opera
BEST B MOVIE SOUNDTRACK:
Chuck Cirino - Bone Eater
Moon-Rays - The Ghastly Love of Johnny X
Steven Gutheinz - Infestation
Terrance Z'dunich - Repo: The Genetic Opera
Tony Riparetti - Bulletface
BEST B MOVIE SPECIAL EFFECTS AWARD:
Joelle Troisi - Rosencrantz and Guildenstern Are Undead
Switch VFX - Repo The Genetic Opera
Fred Aldeschulte- War Birds
Kristin Hellebust - Dead Snow
Jerry Constantine - Infestation
BEST B MOVIE DIRECTOR:
Tommy Wirkola - Dead Snow
Ivan Zuccor - Colour from the Dark
Darren Lynn Bousman - Repo The Genetic Opera
Kyle Rankin - Infestation
Albert Pyun - Bulletface
BEST B MOVIE RELEASE:
INFESTATION
WARBIRDS
REPO: THE GENETIC OPERA
DEAD SNOW
MEGA SHARK VS. GIANT OCTOPUS
LIFETIME ACHEIVEMENT AWARD:
Herschell Gordon Lewis
Fred Olen Ray
Ted V. Mikels
Charles Band
Tom Holland
SUPERFAN AWARD:
Avery Guerra - undead brainspasm/Monster Guru
John Bender - Silver Age Soundtrack Guru
Duane L. Martin - Rogue Cinema
Vince Rotolo - Host of the B-Movie Cast
Dan Roebuck - House of Horror
BEST EMERGING B FILMMAKER:
Stuart Simpson - Demonsamongus
Alan Rowe Kelly - The Blood Shed
Elisabeth Fies - The Commune
Neil Marshall - Doomsday
Darin Wood - Monster From Bikini Beach
BEST HORROR HOST:
Wolfman Mac
Svengoolie
Penny Dreadful
Dr. Shocker
Joe Bob Briggs
RISING B MOVIE ACTRESS:
Kayla Gill - Monster Cruise
Jessica Cameron - Absolution
Pollyanna McIntosh - Offspring
Americo Olivio - Bitch Slap
Brooke Lewis - Slime City Massacre
RISING B MOVIE ACTOR:
Chris Massoglia - The Vampire's Assistant
Johnny Simmons - Jennifer's Body
Shay Baker - Monster Cruise
Paul Wallace - Monster Cruise
Corey Landis - DinoCroc Vs Supergator
THE B MOVIE HALL OF FAME:
Jacques Torneur
Dick Miller
William Girdler
Kroger Babb
F. Gordon Murray
Earl Owensby
Ed Wood
Janet Leigh
William Castle
Larry Cohen
BEST DOCUMENTARY ABOUT B MOVIES:
Daniel Griffith - The Wonder World of K. Gordon Murray
Clay Westervelt - Popatopalis
Michael Kallio - Heart of Dorkness: Behind the Scenes of 'My Name Is Bruce'
John Paul Kinhart - Blood, Boobs & Beast
Andrew Deemer / Jason Foulke - Poultry in Motion: Truth Is Stranger Than Chicken
Please visit the link below to vote and pass along the link to all your friends. Let's support everyone involved in independent cinema!!!
www.goldencobawards.com/index.php?sid=47479&lang=en
Thanks for reading,
Jim
www.JimORear.com