HELLO, FRIENDS…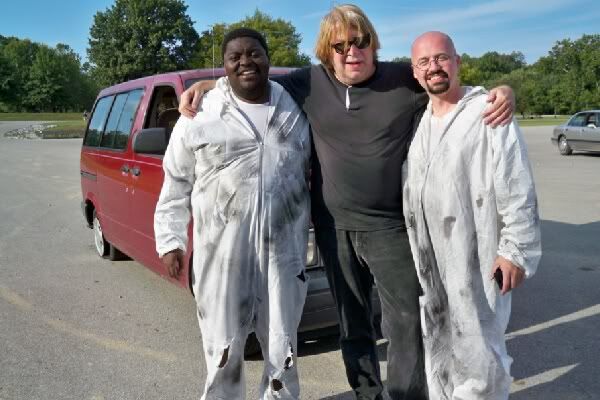 ABOVE: Ervin Ross (COONS), Director Jim Wynorski (RETURN OF THE SWAMP THING), and Jim O'Rear (THE DEAD MATTER) taking a break from BOOZE CRUISE (working title).
I just wanted to post a couple of quick photos from a new comedy film I recently completed with legendary director Jim Wynorski (RETURN OF THE SWAMP THING, VAMPIRELLA, TRANSYLVANIA TWIST) under the working title of BOOZE CRUISE. It was a blast to finally work with Jim on a film! Ervin Ross (COONS) and I play scientists in search of a sea monster… a subplot to the main focus of the film. I would equate our characters to the likes of Jay and Silent Bob from Kevin Smith's comedies… the two idiots that the audience checks in with, from time to time, as the main story in the film progresses.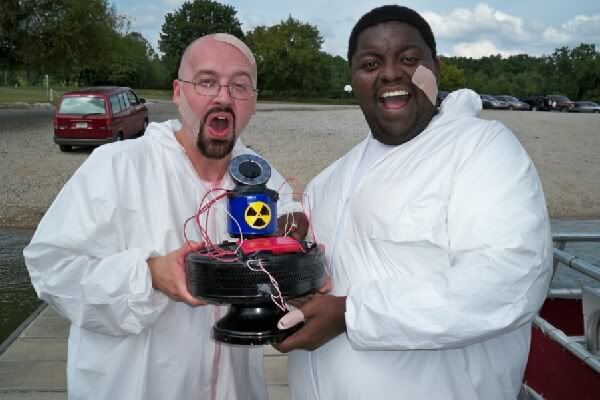 ABOVE: Ervin Ross and Jim O'Rear handle a bomb… a scene that was dropped from the original script.
Ervin Ross was great fun to work with and Jim Wynorski, really, just turned the two of us loose and allowed us to ad lib and make up a lot of our own dialogue. We couldn't have asked for a more beautiful day to be shooting on the lake outside of Shelbyville, Indiana, and the cast and crew were gracious and kind.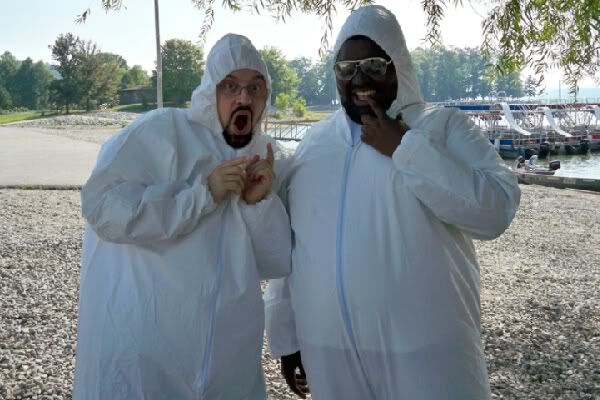 ABOVE: Ervin Ross and Jim O'Rear clown around on set.
It was a great experience and I can't wait to work with this group again in the near future! Thanks goes out to all for making this shoot a fun job! I'm looking forward to watching the finished project.
Thanks for reading,
Jim O'Rear
www.JimORear.com