SCARS Readers…

I've just returned home from appearing at IMAGICON, in Birmingham, Alabama. This first year show (featuring a wide range of genre interests from horror, sci-fi, fantasy, comic books, paranormal, and… wrestling!) was a blast, from a guest standpoint. I'd love to hear from SCARS readers that attended the show to get their feedback on how they enjoyed it.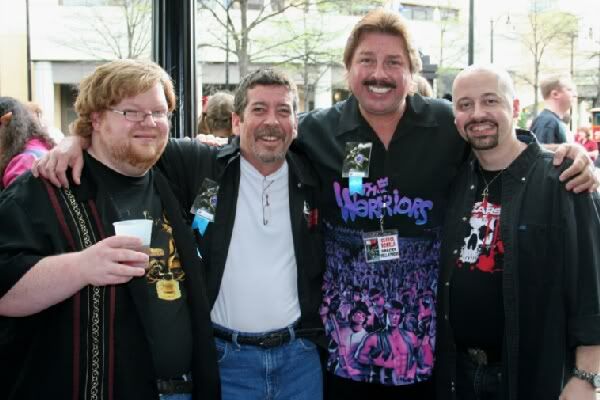 ABOVE: Daniel Emery Taylor, John Dugan, George Bonilla, Jim O'Rear

Imagicon was a fairly small show, which allowed time for much more interaction with guests and fans than the larger shows. I like this type of atmosphere because I don't enjoy feeling like I'm rushed all of the time. Guests included Bill "Leatherface" Johnson (TEXAS CHAINSAW 2), John "Grandpa" Dugan (TEXAS CHAINSAW), Daniel Emery Taylor (RETURN OF THE SWAMP THING), George Bonilla (ZP INTERNATIONAL), horror artist Billy Tackett, Felix Silla (ADDAMS FAMILY), and many, many more.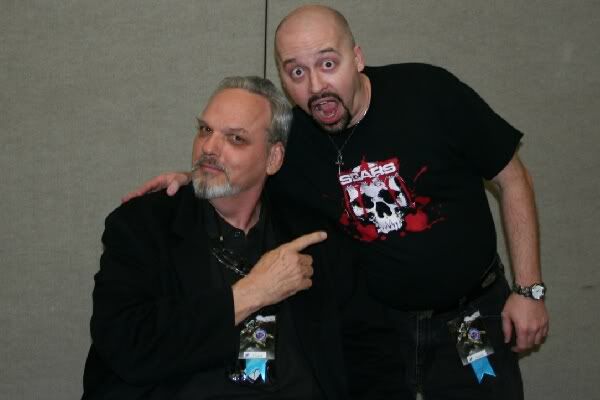 ABOVE: Bill Johnson & Jim O'Rear

One of the many highlights of the weekend came on Friday night when the convention attendees were treated to a screening of ZP International's new film, HELL-EPHONE (featuring myself, John Dugan, Daniel Taylor, Alex Del Monacco, Ari Lehman, and Melissa Wolf). Yes, it's a campy title, but don't let that fool you. There was nothing campy about the film I watched. I really enjoyed the flick and feel that it is, by far, the best George Bonilla and his company, ZP International, has released to date. Apparently, I'm not alone in my praise for the film as the team at ZP have already secured distribution and will be unleashing this one on the public very soon. Check them out here: www.ZPMovies.com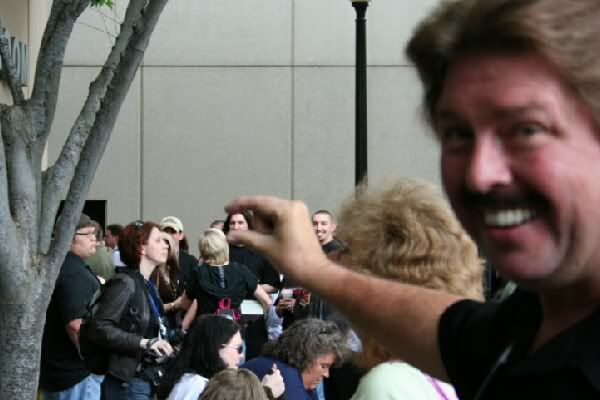 ABOVE: George Bonilla Squeezes Billy Tackett's Head

Saturday was full of fun. The gang from Macabre Mansion showed up to record some interviews for the streaming section of their website (www.MacabreMansion.com). I did an off-the-cuff segment for them as a "guest interviewer," speaking with John Dugan about TEXAS CHAINSAW, SHUDDER, HELL-EPHONE, and upcoming projects John has in the works. Macabre Mansion also spent time with Bill Johnson and Daniel Emery Taylor, scoring interviews with both men for their website. They should be uploaded to the Mansion website soon, so check them out!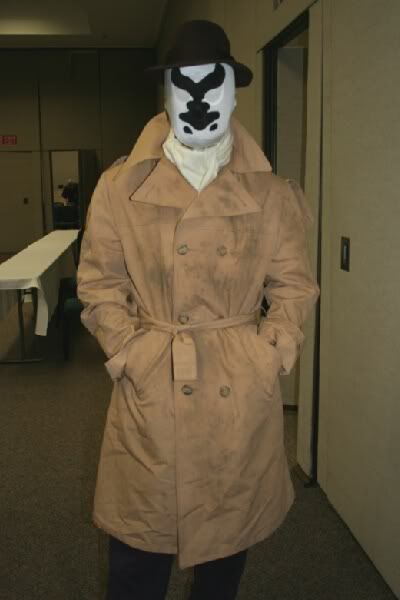 ABOVE: A Costumed Comic Book Fan

Another Saturday highlight was co-hosting a filmmaking panel with George Bonilla covering everything from scripting, financing, casting, shooting, and distributing independent films. George is a great guy with some great stories and he really knows what he's talking about. It was a blast sitting in with George on this.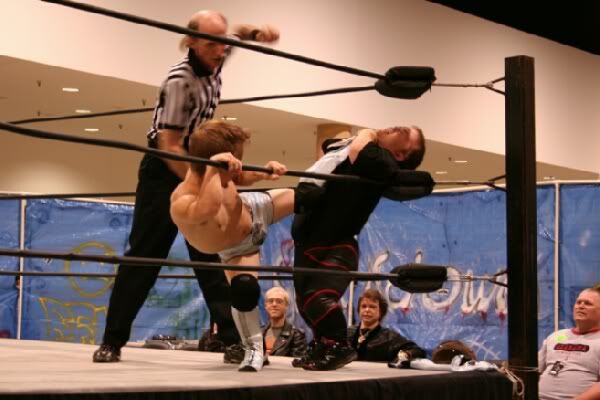 ABOVE: A Round Of Politically Incorrect Midget Wrestling!

I mentioned wrestling earlier. This was the first horror/sci-fi convention that I've attended that held two sets of wrestling matches to help raise money for charity. I was unable to attend the afternoon matches, but I had to make it to the evening show because my buddy Daniel Emery Taylor (SWAMP THING) was participating as one of the "evil managers." Anyone familiar with wrestling knows that "evil managers" usually get what's coming to them. This meant that I was going to get to see Daniel get his butt kicked at sometime during the evening. I wasn't disappointed, either, as I got to see Daniel get the smackdown put on him TWICE… one of those times by the wrestler known as Butterbean!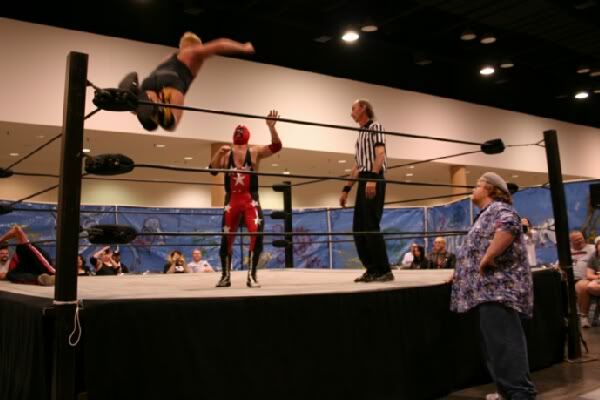 ABOVE: Daniel Emery Taylor Watches His Wrestlers Duke It Out

It had been a long time since I had watched wrestling and these matches reminded me of how fun this type of "sports entertainment" can be. I look forward to watching Daniel Emery Taylor get his butt kicked again in the near future! (Sorry, Daniel… ha ha ha)



ABOVE: Daniel Is About To Receive The Smackdown!

Saturday night was wrapped up by a group of us heading to the hotel sports bar for some food and relaxation. The gang inside the bar included myself, Samantha Newark (JEM), artist Billy Tackett and his lovely wife Heather, John Dugan (TEXAS CHAINSAW), Daniel Taylor (SWAMP THING) and his wonderful wife Ami, Sean Taylor (GENE SIMMONS DOMINATRIX), Bobby Nash (FUZZY BUNNIES FROM HELL), George Bonilla (ZP International) and his sweetheart of a wife Tammy, and others. I laughed and laughed until I couldn't breathe as hijinx ensued involving several drunken costumed convention attendees!



ABOVE: Daniel Emery Taylor & Jim O'Rear

As is the case with all conventions, Sunday is a time for goodbyes. One last day of fun before jetting off to the next project. IMAGICON was a blast. The staff, guests, and attendees were all wonderful to deal with and I hope to do it again next year.

Coming soon… THE FULL MOON TATTOO AND HORROR CONVENTION in Nashville, TN (April 24-26). This one is always a blast! More news on this soon! You can also check it out by visiting my website (www.JimORear.com) and clicking on the Full Moon link.

Thanks for reading!!
Jim
www.JimORear.com