HELLO, FRIENDS…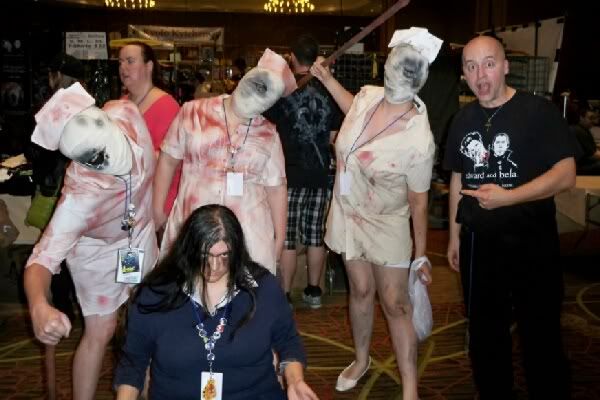 ABOVE: Jim O'Rear keeps his distance from the SILENT HILL chicks!
Recently, Dallas, Texas, was overrun by anime, comic book, and video game characters and the city will never be the same again! Yes, I'm talking about attendees at the HUGE A-Kon Convention, the oldest, continually running anime-based convention in North America. Celebrating its 21st year, A-Kon hosted anime fans and guests and offered other items of interest ranging from gaming to independent film. Oh yeah… did I mention that it was HUGE?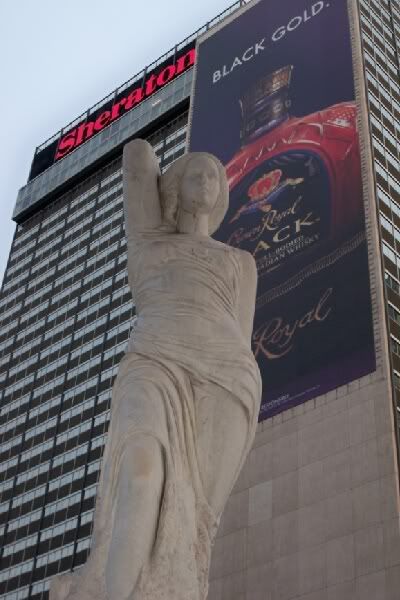 ABOVE: Our hotel! Nothing says home like classical sculptures, industrial architecture, and hard liquor!
I was excited to appear as a guest at A-Kon this year as I was relatively unfamiliar with modern anime and wanted to experience something new. My son, however, knows everything about anime, so he accompanied me to Dallas to be my guide and help me ease into the culture shock I was about to experience.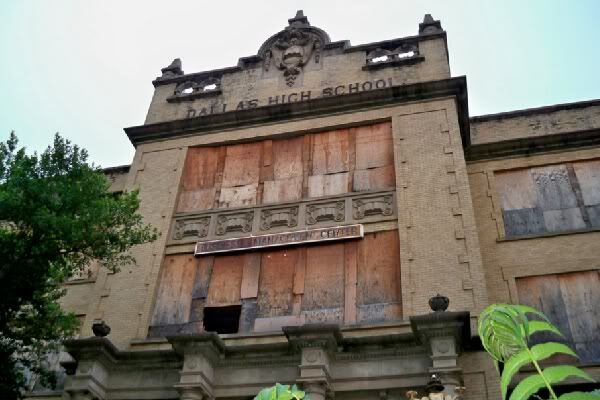 ABOVE: I didn't think I'd see anything horror related during this trip until I came across this school. Looks like a set from a really creepy film!
Arriving in Dallas on Thursday, we were promptly greeted at the airport by an A-Kon staff member who whisked us through the downtown traffic and to the front door of the event hotel. From there we were briskly ushered to guest services and handed a packet of supplies, including badges, schedules, restaurant information, maps of the location, special guest invitations to events, hotel room keys, and more. It was great… no checking in at the hotel or wading through fans to get our guest materials. Everything was prepared and ready for us upfront. I could tell, already, that I was going to like this show!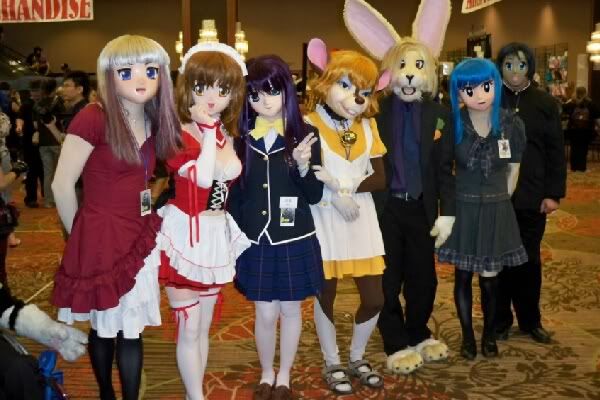 ABOVE: Costumed anime fans await the start of the convention.
Walking downstairs to scope out where my guest table was, we noticed about 200 hundred people who were already standing in line to get tickets… and the show wasn't even officially starting until the following morning. That didn't matter to these die-hard fans, though, who came a day early to party… 95% of them dressed in costume!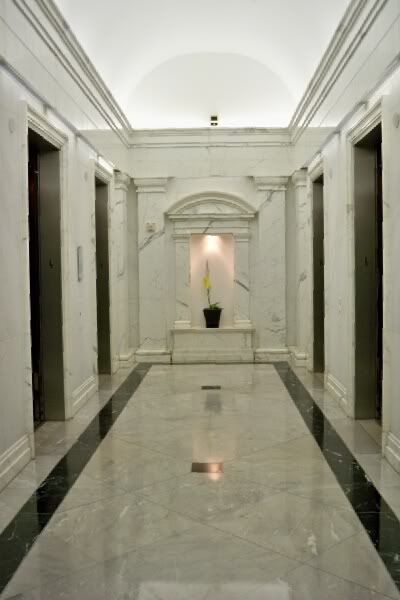 ABOVE: Rounding the corner in my hotel, I stepped into a hallway that looked like it came right out of the film PHANTASM!
After locating my table, it was time for some dinner. I checked the schedule to see when I'd be needed Friday and noticed that the show opened at 8am. I thought that was a little strange, as most shows I appear at don't even get rolling until late afternoon on a Friday. Would there actually be people in attendance that early on Friday? My question was answered after dinner when I returned to the convention center to find several hundred more costumed people hanging out. It appeared as if there would be hundreds flooding the show first thing in the morning.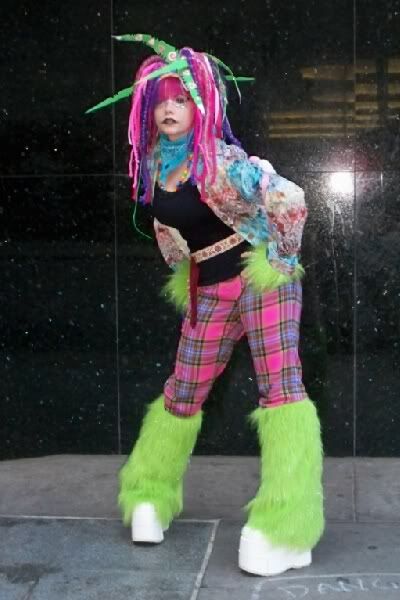 ABOVE: A young lady models some Japanese fashion.
My thoughts were confirmed when my son and I reported to the show Friday morning. The doors opened with a bang as hundreds of fans rushed into the center ready to meet their favorite voice actors, participate in panels, listen to concerts, watch movies, and buy merchandise…most of which had been imported from Japan. Oh, and did I mention that 95% were in costume?? Here are a few:
ABOVE: Mushrooms and Poison Ivy could make a powerful concoction!
ABOVE: ?????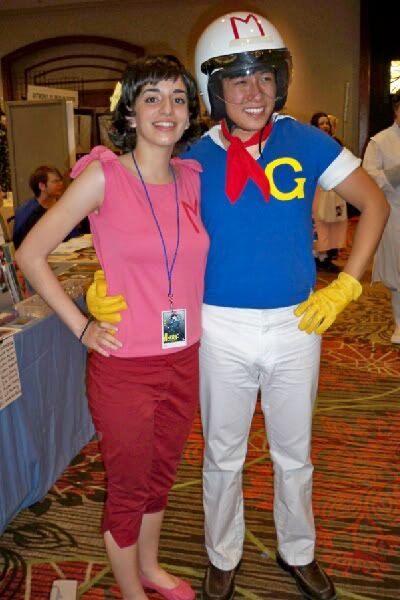 ABOVE: Go, Speed Racer! Oooo, Aaah, Oooohh!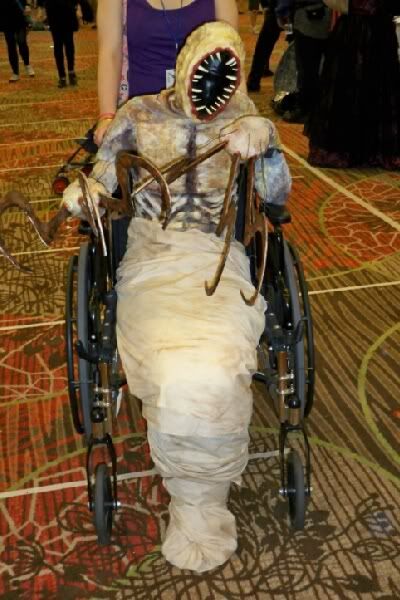 ABOVE: Hooray for creepy!!!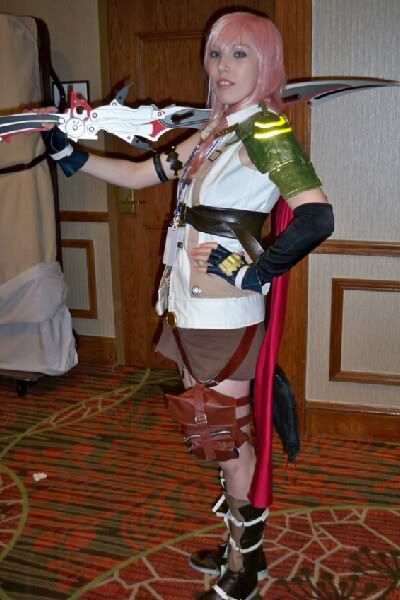 ABOVE: One for the FINAL FANTASY fans!
I wondered how much money some of these fans had spent to become their favorite characters, as most of the costumes were very detailed and well made. As more and more people came through the doors, the convention center's mechanical items began to break down. It wasn't long, at all, before several of the elevators and escalators no longer worked from the strain of thousands of people constantly on them. As a matter of fact, sometimes the line just to get on the elevator was as long as the line to get into the building. Needless to say, we got our exercise climbing stairs all weekend, as the convention spanned 3 different floors of the convention center.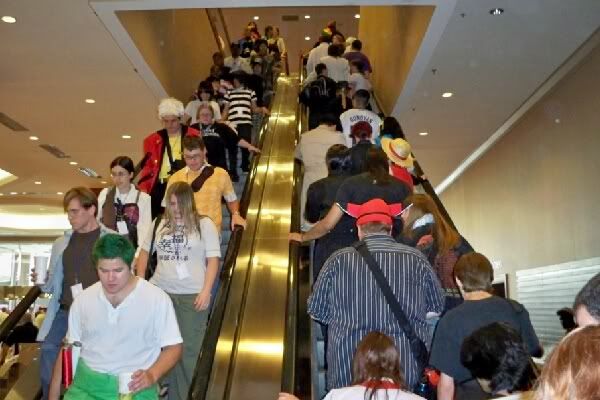 ABOVE: This was the view of the escalators… 24/7.
Highlights for Friday included panels on drawing anime, auditioning for anime, publishing, creating characters, RPGs, and more. I gave a panel on acting and performing stunts in film for the attendees and took some time out to attend my friend's (Robert "Lord Zedd" Axelrod, POWER RANGERS, AKIRA, STAR TREK VOYAGER) funny and informative panel on voice acting techniques, which was also hosted by Kyle Hebert (DRAGONBALL Z, BLEACH, NARUTO) and Mary Elizabeth McGlynn (COWBOY BEBOP, GHOST IN THE SHELL, DIRGE OF CEREBUS).
ABOVE: Kyle Hebert, Robert Axelrod, and Mary Elizabeth McGlynn host a voice actor panel.
After my panel on acting and stuntwork, I was challenged to a Pixie Stick shooter contest by Schmitty. I'm not one to turn down a challenge, but since I'm hypoglycemic and can't eat sugar… my son, Brandon, stepped up to the plate.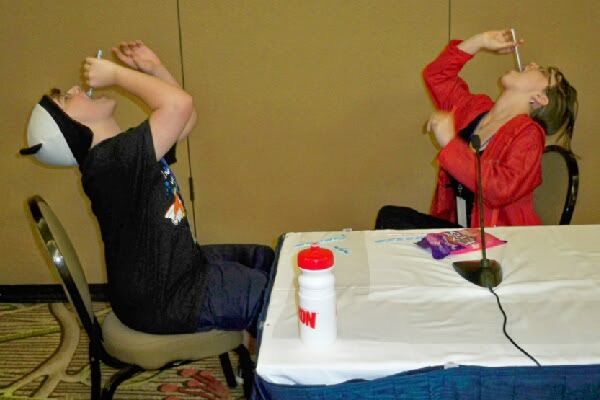 ABOVE: Brandon O'Rear and Schmitty battle it out in a Pixie Stick shooter challenge.
As Friday evening came attendees gathered for various nighttime activities. One of those was an impromptu dance-off contest held on the main floor of the convention center. Also, shenanigans were afoot at the opening ceremonies, which included a hilarious short film by Anthony Brownrigg (FULL METAL ALCHEMIST) that was made just for the show.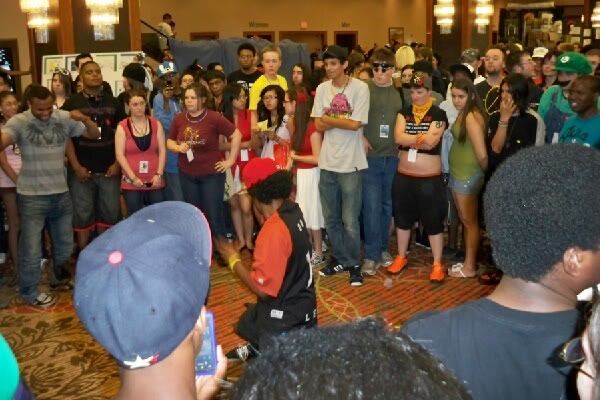 ABOVE: Dancers square off in an impromptu dance contest.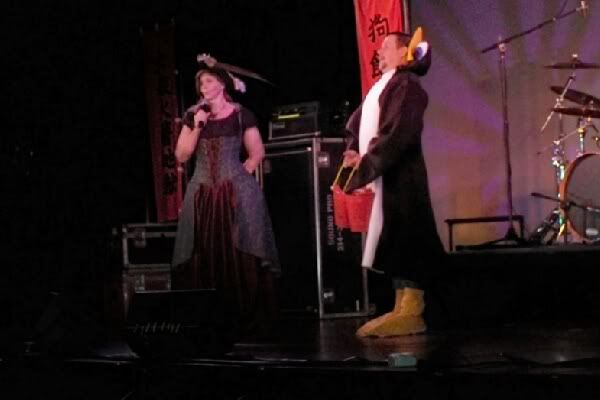 ABOVE: Anthony Brownrigg clowns it up on stage in a penguin costume during opening ceremonies.
After dinner it was time for a concert by Inugami Circus-dan, from Japan. Formed in 1994, they are one of the longest running Visual Kei bands and even started their own fashion trend in Japan with their style of dress… which is a mixture of Kimonos, military-styled uniforms, and painted faces (like clowns). Unfortunately, photography was not allowed during the concert, but they rocked the house. It didn't matter that all of the lyrics were in Japanese, the music spoke for itself. Since I couldn't photograph the band, here are a few more cool pictures of costumed fans: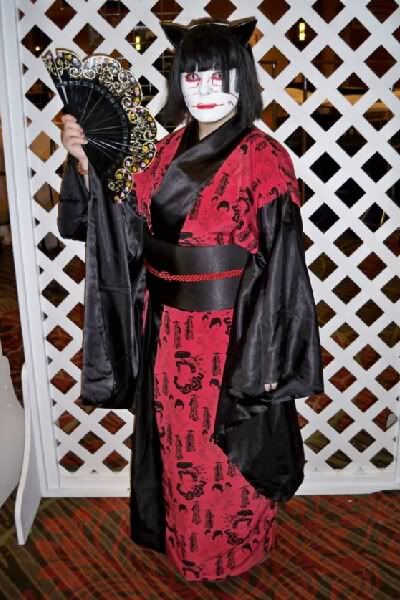 ABOVE: A creepy Geisha dressed very much like Inugami Kyoko from the band Inugami Circus-dan.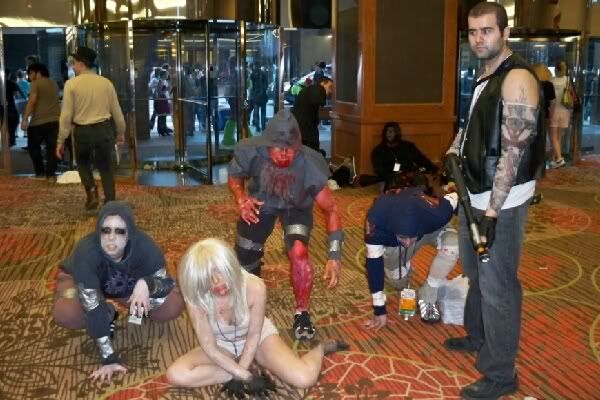 ABOVE: LEFT 4 DEAD zombies, anyone?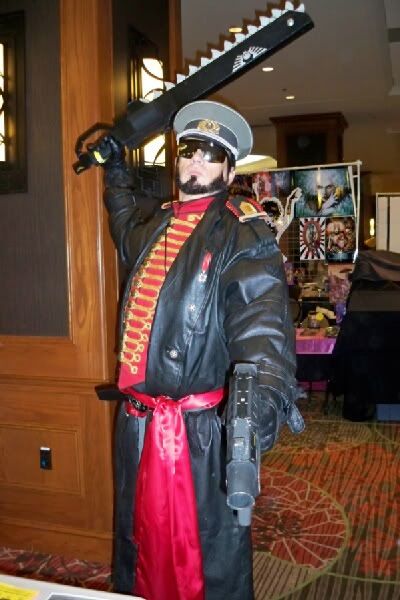 ABOVE: ?????
Following Inugami Circus-dan, the band Seikima II took the stage. This band can best be described as the Japanese version of Kiss. Clothed in wild costumes and with each member sporting an individual character makeup, this five-man rock and roll explosion tore up the stage in their first American appearance. Unfortunately, no photographs were allowed, again. So, in their place I offer you this picture of cute cat people: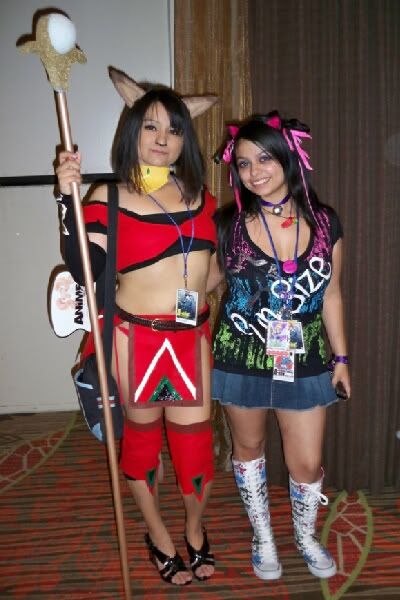 ABOVE: NOT Seikima II.
As if that wasn't enough activity for one day, a midnight screening of THE ROCKY HORROR PICTURE SHOW with shadow cast couldn't be missed. This was the first time my son had the opportunity to see the film with a live audience and we had a blast throwing toast, toilet paper, and cards, spraying water, snapping rubber gloves, screaming at the screen, dancing in the isles to The Time Warp, and more. The shadow cast was great and they constantly kept energy pumping through the room.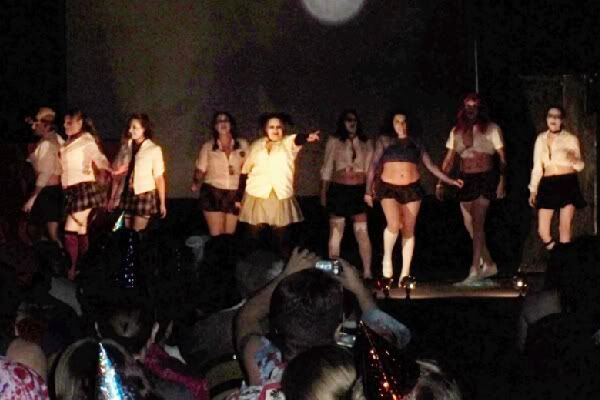 ABOVE: Members of the ROCKY HORROR shadow cast dance the night away on stage.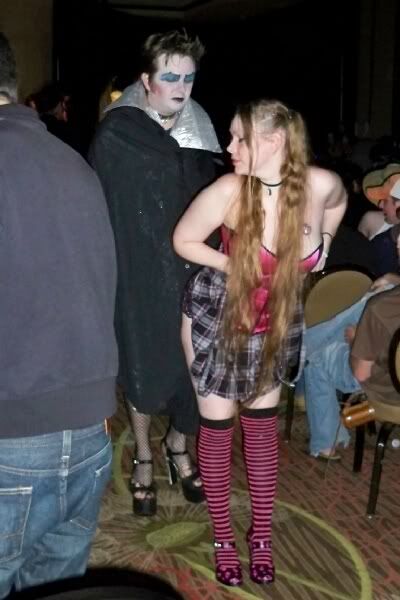 ABOVE: Hijinx ensue as Frank-n-Furter strolls through the ROCKY HORROR audience.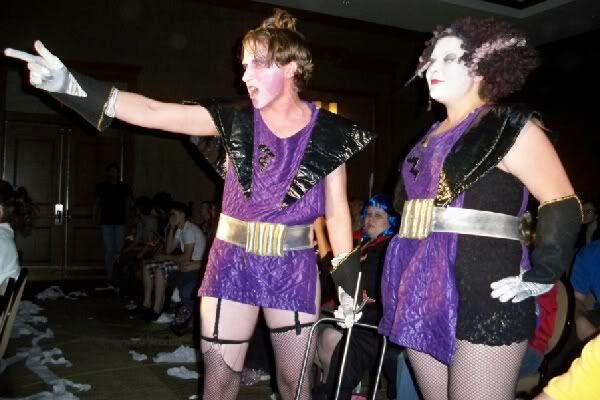 ABOVE: Riff Raff and Magenta come to take everyone back to Transylvania during THE ROCKY HORROR PICTURE SHOW.
Saturday morning came extremely early… especially after only a few hours of sleep. That didn't stop the thousands of fans from streaming into the show at 8am. More panels, anime film screenings, activities, shopping, and costume contests were lined up to keep everyone busy. We got to spend a few more minutes with Robert Axelrod (THE BLOB, DIGIMON, FIST OF THE NORTHSTAR) in between waves of people, I hosted a panel on independent filmmaking, and we briefly ran into Jonathan Joss (KING OF THE HILL, CHARMED, WALKER TEXAS RANGER).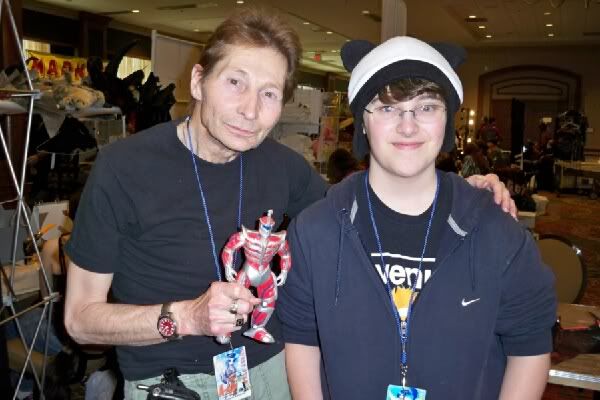 ABOVE: Robert "Lord Zedd" Axelrod (POWER RANGERS) and Brandon O'Rear.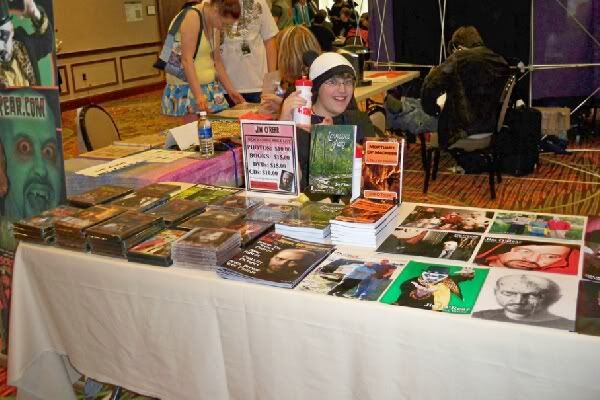 ABOVE: Brandon O'Rear mans the "Jim O'Rear Table," trying to convince people that he is me!
Of course there were plenty of costumes to enjoy. Here are a few more: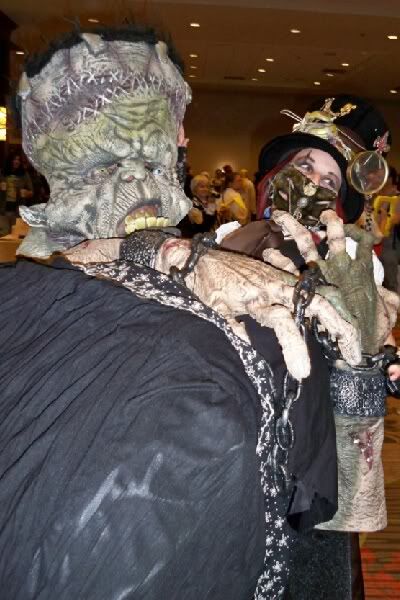 ABOVE: The Frankenstein monster abducts a young Steampunk fan.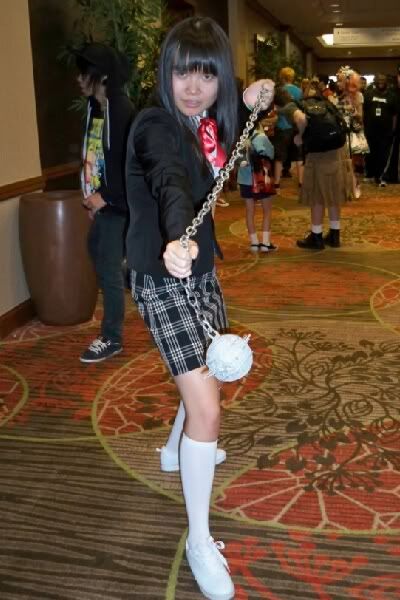 ABOVE: "Go Go" from KILL BILL.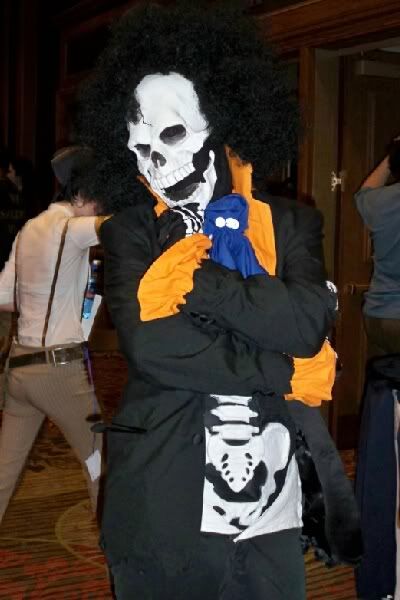 ABOVE: Ya gotta love a skull with an afro!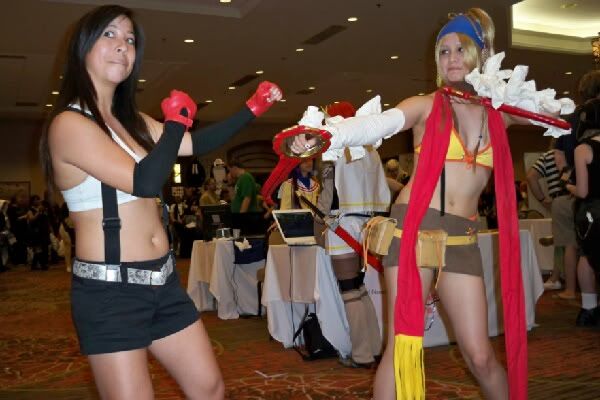 ABOVE: Girl fight on the showroom floor!
Evening entertainment consisted of a show featuring traditional dances, spin the bottle, a screening of REPO: THE GENETIC OPERA with shadow cast, and a concert by rockin' Steampunk band Abney Park (at which photography was not allowed, again).
ABOVE: A troupe shows off their traditional dance stylings.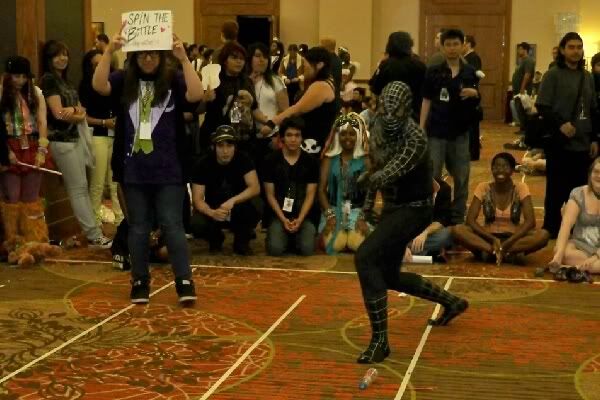 ABOVE: Spin The Bottle with Spidey!
Traditionally, Sunday is the slowest day of a convention, as people recover from the last two nights of hard partying. Not so at A-Kon, though. Sunday opened early with a bang. Again, thousands rushed through the doors to experience the last full day of activities… panels, screenings, autograph sessions, and more. One of those activities that I was invited to participate in was a "Brunch With The Stars" event where fans could come have breakfast with us. The food was fantastic and the company was great. There was even a small orchestra playing anime theme songs for us while we dined.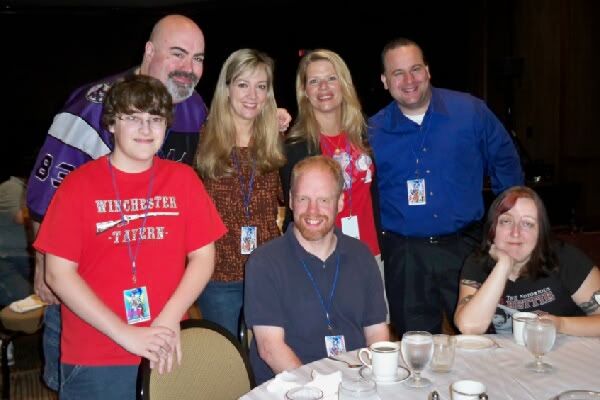 ABOVE: Breakfast buddies Brandon O'Rear, Kyle Hebert (DRAGONBALL Z, FULL METAL ALCHEMIST, BLEACH, MEGAMAN), Stephanie Young (ONE PIECE, CLAYMORE, DESERT PUNK), Mary Elizabeth McGlynn (COWBOY BEBOP, GHOST IN THE SHELL, .HACK/SIGN), Kevin McKeever (MYSTERY MEN, JACKASS, FOR LOVE OF THE GAME), Steve Horton (CAPTAIN MARVEL, STRONGARM), and Ursula Vernon (NURK, DIGGER).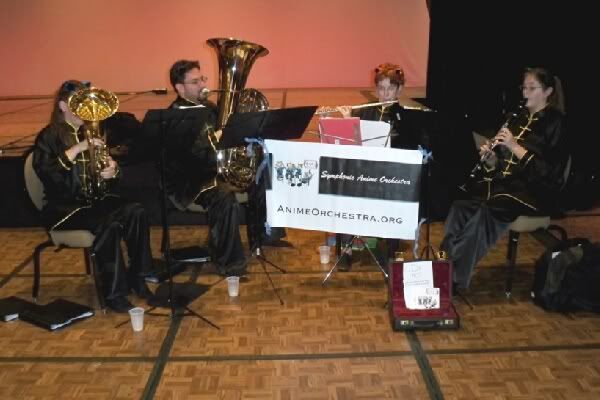 ABOVE: An orchestra performing anime tunes performs during breakfast/brunch.
Afterwards, I hosted a fun panel on screenwriting and, as usual, there were thousands of costumes to enjoy. Here are just a few more: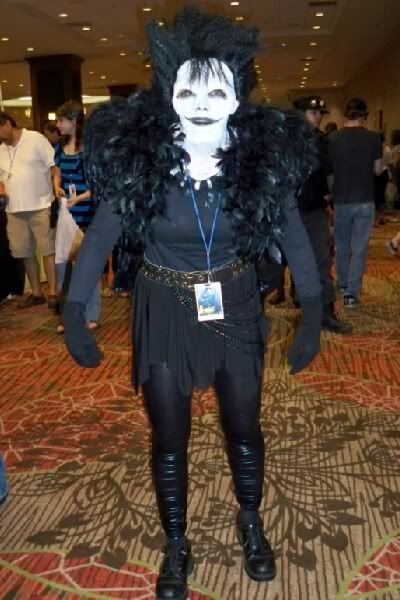 ABOVE: Ryuk from DEATHNOTE (an great anime that I'm actually familiar with).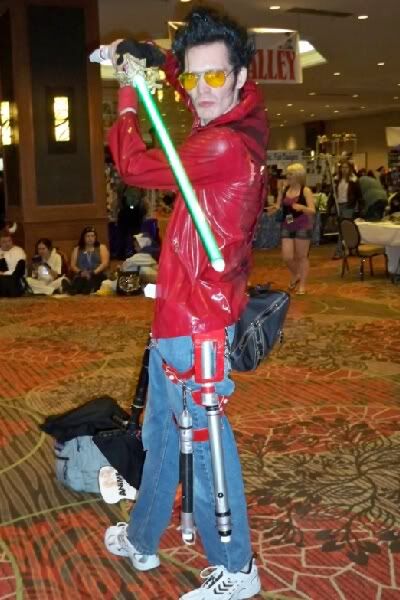 ABOVE: From the Wii game NO MORE HEROES.
ABOVE: "Mad Eye" Moody for the HARRY POTTER fans.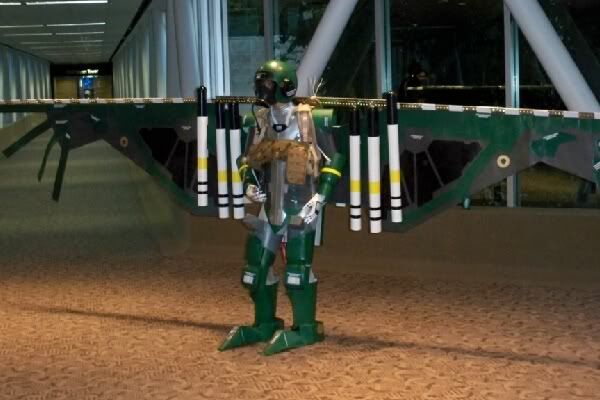 ABOVE: You could put someone's eye out with those wings!
ABOVE: "Graverobber" from REPO.
The A-Kon Convention was a blast; well organized, efficiently run, full of activities, unending energy, great staff members and guests, and a little something for everyone. I hope to do this show again in the future as A-Kon, once again, takes over Dallas!
Thanks for reading,
Jim
www.JimORear.com